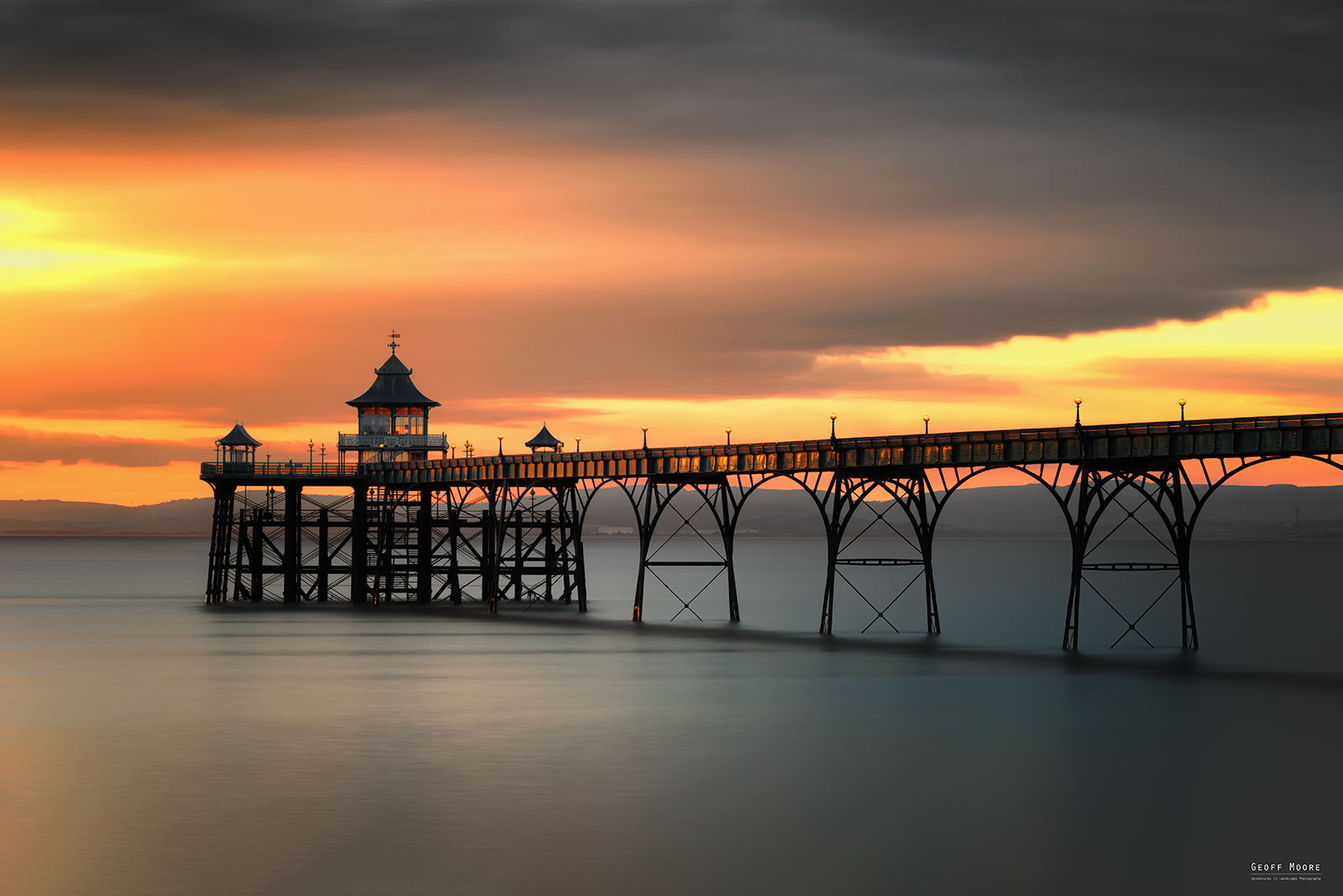 Somerset Sunset Clevedon Pier
Image Title: Clevedon Victorian Pier

Pentax K-1

Camera used:

Pentax DFA 28-105mm f/3.5-5.6

Lens used:

105mm

Focal length:

f/11

Aperture:

60 Sec

Exposure time:

100

ISO:
A quick dash to capture sunset at "The most beautiful pier in England" Sir John Betjeman
Clevedon Pier was opened in 1869 to receive paddle steamer passengers from Devon and Wales. Today it is a focal point for events in Clevedon and in particular it would seem photographers. With the weekend weather on the Friday and Saturday being a bit dull and flat, the change of weather on the Sunday prompted Mark and I to perform a quick dash from Worcester to Clevedon to visit the magnificent Victorian Clevedon Pier and also meet a fellow photographer Simon (REP001) who often frequents both Flickr and Clevedon by all accounts.
Sunset group photography adventure
Having met up with Simon the three of us made our way to the outdoor marine pool and fanned out looking for compositions. At the marine pool several swimmers were in full force swimming the lengths; up and down, left and right, In obvious exertion as the water was pretty chilly. The swimmers were kitted out in wet-suits and thermal hats, making for an interesting view, still the swimmers were not the focus of my photography, but strong lines and geometric shapes around the marine pool were. Unfortunately, several shots later, trying to capture the angles and minimalist styles of the pool edges I realised I was on to a non starter.
No matter where I put the composition the strong lines and angles in my minds eye simply didn't translate to images on the back of the camera. Hi angles, low angles, moving closer, walking further away, hell, I event tried putting the perceived horizon line at 40°, 50°, 60° and 70 degrees, like you seen in all the edgy hi octane Motorsport photos in the glossy magazines, yet nadda, zilch, nothing but frustration was enjoyed. Deciding to cut my losses I walked back to Mark and Simon to discuss the situation.
After a few minutes chatting, It quickly transpired I was not alone in these frustrations, both Mark and Simon who had managed to capture an image or two agreed that the going was tough and together we decided it might be wise to move on up a little before the light faded to photograph Clevedons magnificent Victorian era Pier. After all this was the intention of the mini adventure. A short stroll of around 5 mins and we approached the Pier in all its splendar and the real image making began.
Clevedon Pier is a seaside pier in the town of Clevedon, Somerset, England on the east shore of the Severn Estuary. It has been described by Sir John Betjeman, as "the most beautiful pier in England" and was designated a Grade I listed building in 2001
The pier was built during the 1860s to attract tourists and provide a ferry port for rail passengers to South Wales. The pier is 312 m (1,024 ft) long and consists of eight spans supported by steel rails covered by wooden decking, with a pavilion on the pier head.
The pier opened in 1869 and served as an embarkation point for paddle steamer excursions for almost exactly 100 years. Two of the spans collapsed during stress testing in 1970 and demolition was proposed, but local fund raising and heritage grants allowed the pier to be dismantled for restoration and reassembled. It reopened in 1989, and ten years later was awarded the Pier of the Year from the National Piers Society, and a Civic Trust Award.
How to get here
Enter your starting location on the box provided under the map to see the route from your starting location to Clevedon Pier, UK
Recent Photography Adventures
Why not read about some of my other photography adventures around the UK