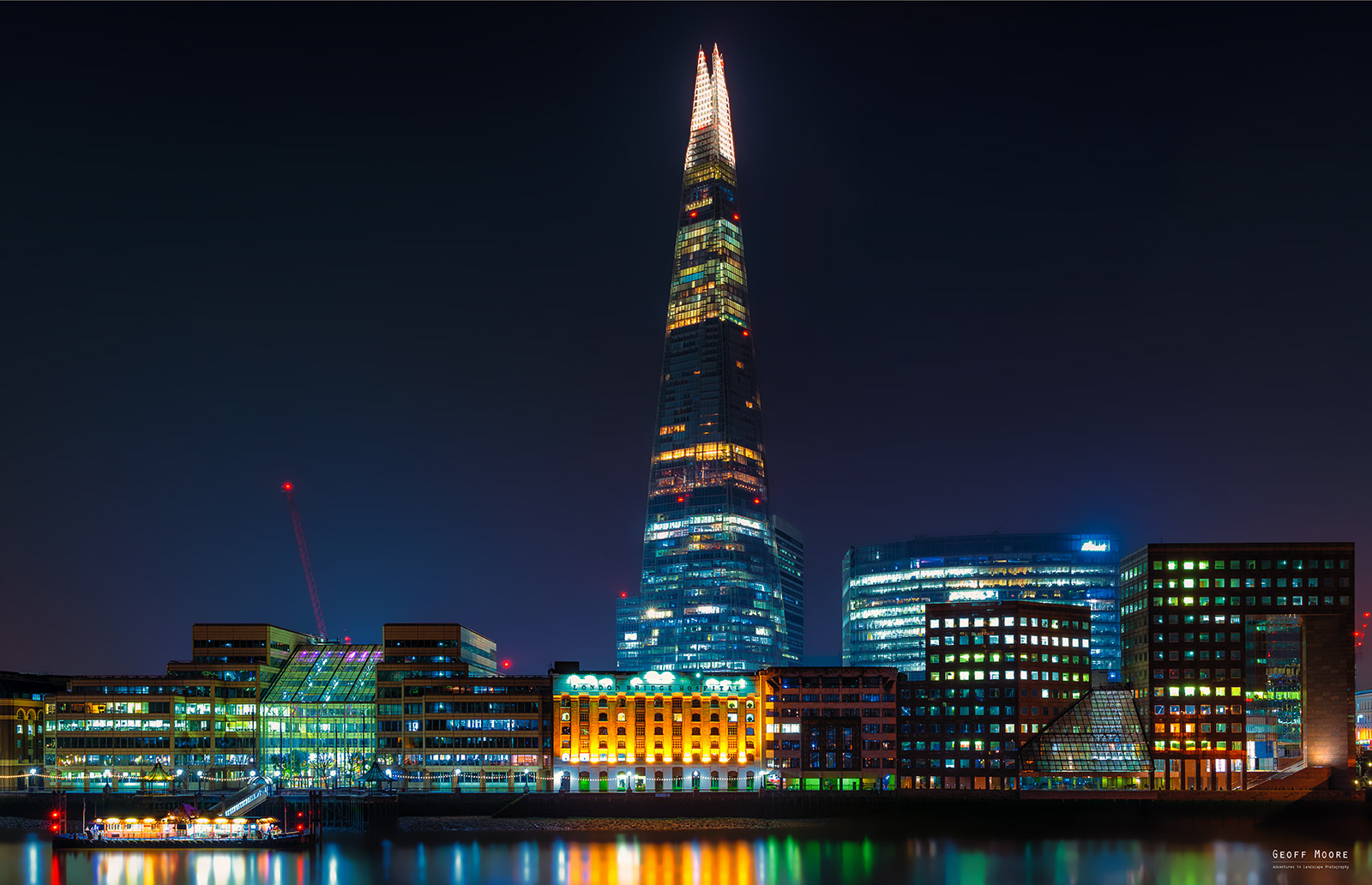 London Flickr Photography Adventure
Image Title: Dreaming In Neon - The Shard

Pentax K-1

Camera used:

Pentax FA 28-105mm f/3.5-5.6

Lens used:

28mm

Focal length:

f/11

Aperture:

20"

Exposure time:

100

ISO:
A night and day Flickr group adventure photographing the City of London.
Every now and then Mark and I will go on a Grand Adventure as I like to to call them, these adventures differ from our normal outings as they typically involve multiple days, other photographers, long distances or a combination of all the above and generally mean little or no sleep. On our recent adventure to London, we decided to make best use of our time in the city taking nighttime architectural shots, blue hour shots over the Thames and then to St Paul's to meet up with our wonderful friends we have made on Flickr!
Getting To London
Driving down to the City of London was a possibility however, with the ever growing congestion charges and chancing your luck at finding a car park, and one that doesn't require you to remortgage you house. We decided a more novel approach could be used, so leaving Worcester by car at around 12:00 AM we drove down to Osterley Underground Station (Zone 4), from here we would take in the train in to the london underground, make a quick change and then emerge in the heart of the city. The reason this is two fold, an all day parking ticket is only £2.00, its 24 hours staffed and using the London underground really is the simplest and quickest way to navigate London. So that is exactly what we did.
On The Tubes
Travelling on the London Underground can be be a bit of challenge, its not so much the simple complexity of the underground maps to read and understand but also the masses of people who use the service at all times of the day, for us, packing some serious camera gear, it was a nervy affair, our journey in from Osterley to Bank Station would take us around 1 hour with a change of trains towards the end of our journey, the following info should help those who are considering this route.
Do you have to change trains? Yes
How many stops are there? 19
1) From Osterley take the PICCADILLY
2) Change train at Holborn to the CENTRAL
3) Leave the train at Bank
Tube route: Osterley → Boston Manor → Northfields → South Ealing → Acton Town → Hammersmith → Barons Court → Earls Court → Gloucester Road → South Kensington → Knightsbridge → Hyde Park Corner → Green Park → Piccadilly Circus → Leicester Square → Covent Garden → Holborn change train Holborn → Chancery Lane → St. Pauls → Bank
How long does it take? The journey time between these two London underground stations is approximately 53 minutes

Which fare zones? This tube journey is in zones 1-4. You can pay with an oyster card, visitor oyster, zone 1-4 travelcard or contactless payment card. Look up the zone 1-4 fare for adults and zone 1-4 price for children - From https://www.londondrum.com/transport/train-journey.php?from=osterley&to=bank
As our journey in was in the early hours of a Saturday morning, with each passing station as we moved closer to the heart of the city, more and more party goers and people on to and from their place of work started to fill the carriages. With today's climate evolving around fear mongering from the media, has painted everyone with brush of suspicion, from my observation, as a relatively fresh faced user of the underground, there was a palatable questioning by all people, of all people who embarked and disembarked at each station, eye's twitching and glancing gazes, processing risk and danger, validating and scrutinising anyone who looked out of place, quite a worry! - perhaps, living a sheltered life in the country, one doesn't concern oneself if a passer by is carrying a rucksack, or a three legged metal thing (Tripod) I enjoy, I suspect, a greater level of blind trust rightly or wrongly. In London the feeling was quite different, there was a palatable level of distrust.
Exiting Bank Station at 3 am, The air was cooler than what we had become accustom to on the underground, and having space in which to stand and breathe albeit not country air, was a still a blessing from the recycled claustrophobia inducing human smog that is the London underground, thankfully it was now around 3am and the masses of people had started to disperse, there was little to no traffic and the heat of the bustle from the day previous had dissipated into twilight darkness above us, the city as they say was now our oyster, at least for the next 16 hours. First stop The Lloyds Building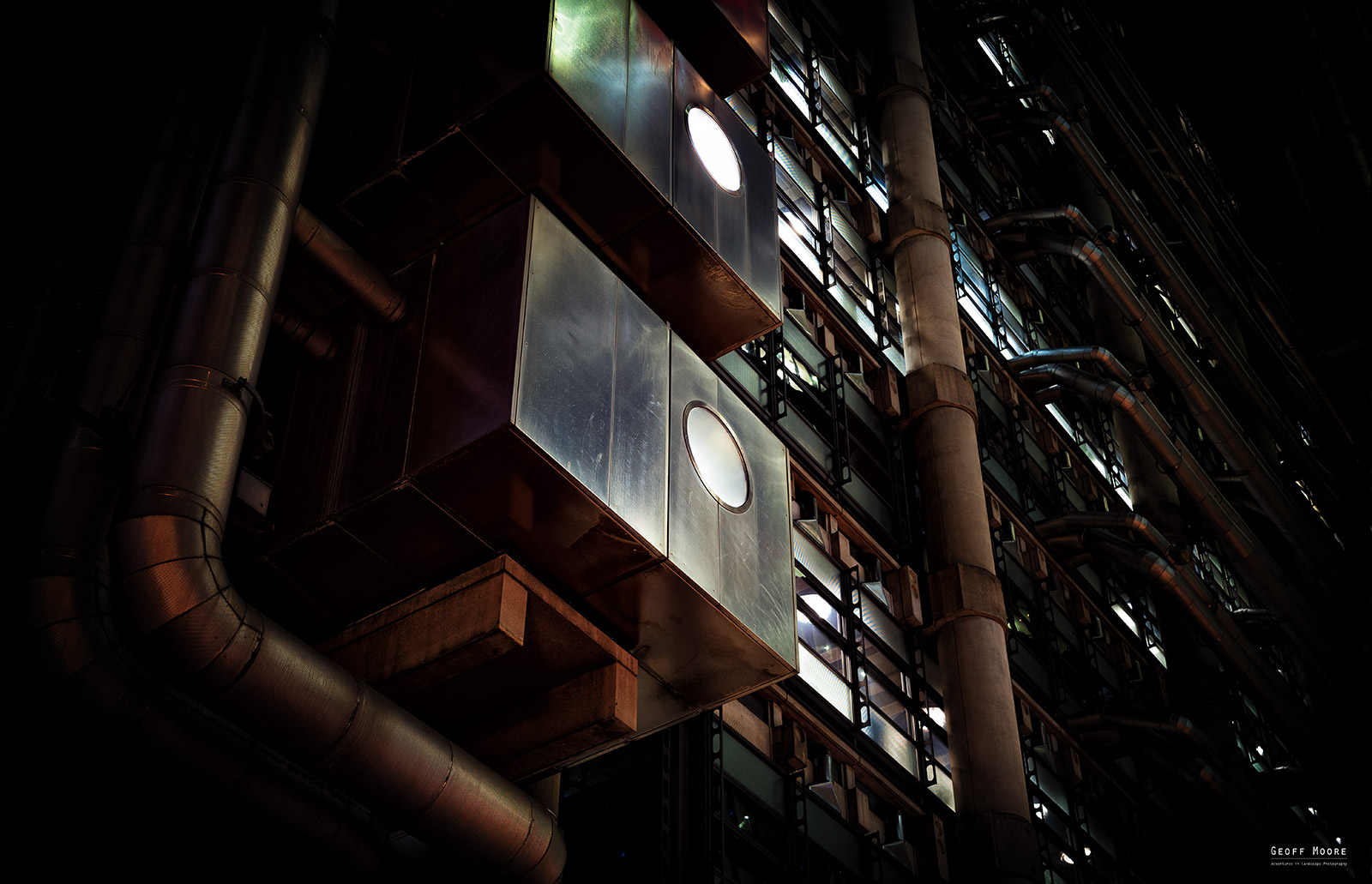 Image Title: Replicant Hunting at Lloyd's Building London

Pentax K-1

Camera used:

Pentax FA 28-105mm f/3.5-5.6

Lens used:

48mm

Focal length:

f/4.5

Aperture:

3"

Exposure time:

100

ISO:
Lloyd's Building
The internationally-renowned Lloyd's building was designed by the architect Richard Rogers and took eight years to build. 33,510 cubic meters of concrete, 30,000 square metres of stainless steel cladding and 12,000 square metres of glass were used during the construction. At night this building with it unique air ventilation systems being on the outside makes for a striking image.
The neo-noir science fiction-esk Lloyd's building (sometimes known as the Inside-Out Building). Is the home of the insurance institution Lloyd's of London. It is located on the former site of East India House in Lime Street, in London's main financial district, the City of London. The building is a leading example of radical Bowellism architecture in which the services for the building, such as ducts and lifts, are located on the exterior to maximise space in the interior. Twenty-five years after completion in 1986, the building received Grade I listing in 2011; it was the youngest structure ever to obtain this status. It is said by Historic England to be "universally recognised as one of the key buildings of the modern epoch"
The style and shape to this building lends it self well to off angle and detail rich photography, its shape and construction projected to me a dystopian world view, whilst screaming Ridley Scott's blade runner. Photographing the building my thoughts ran wild, longing for jets of steam and neon lights to radiate from the porthole like windows and vents. The thoughts of occasional hovering police car with flashing blue and red lights would have really set the scene, I digress.
Thames Riverside Walk
Having taken several shots and noticing that Mark had wandered off a little down the road I packed up and caught up with him. Walking the streets of the capital, we made though Leadenhall Market although the illumination and structure was interesting it wasn't something that piqued my photographic interest, Mark stopped to shoot a couple of shots but I was quite content just watching from the side lines. It wasn't long before we then moved on down to London Bridge and alongside the Thames. At 4am it's hard not to miss the bright lights and colours of London Bridge Quarter development, access is surprisingly easy, but you should keep your wits about you, for its easy to get distracted by the big city and place yourself in a vulnerable position.
Our route from The Lloyd's building to the Thames for the shot across to the Shard meant that we passed to the side of London bridge, some disgruntled youths, unhappy that the bus would not let them board with drinks in hand, decided to vent their frustrations and scuffle ensured, thankfully I was buddied up with Mark so safety in numbers and all that, we chose to cross the road away from the trouble, its often the case that passers by get caught up in such situations, and such you need to be mindful of your environment, your possessions and how situations can be fluid. Thankfully, we missed the attention of the brawling group as the bus sped off in to the distance leaving the jeering and gesticulating mob behind. Quickly, we made our way down to the side of the Thames unnoticed.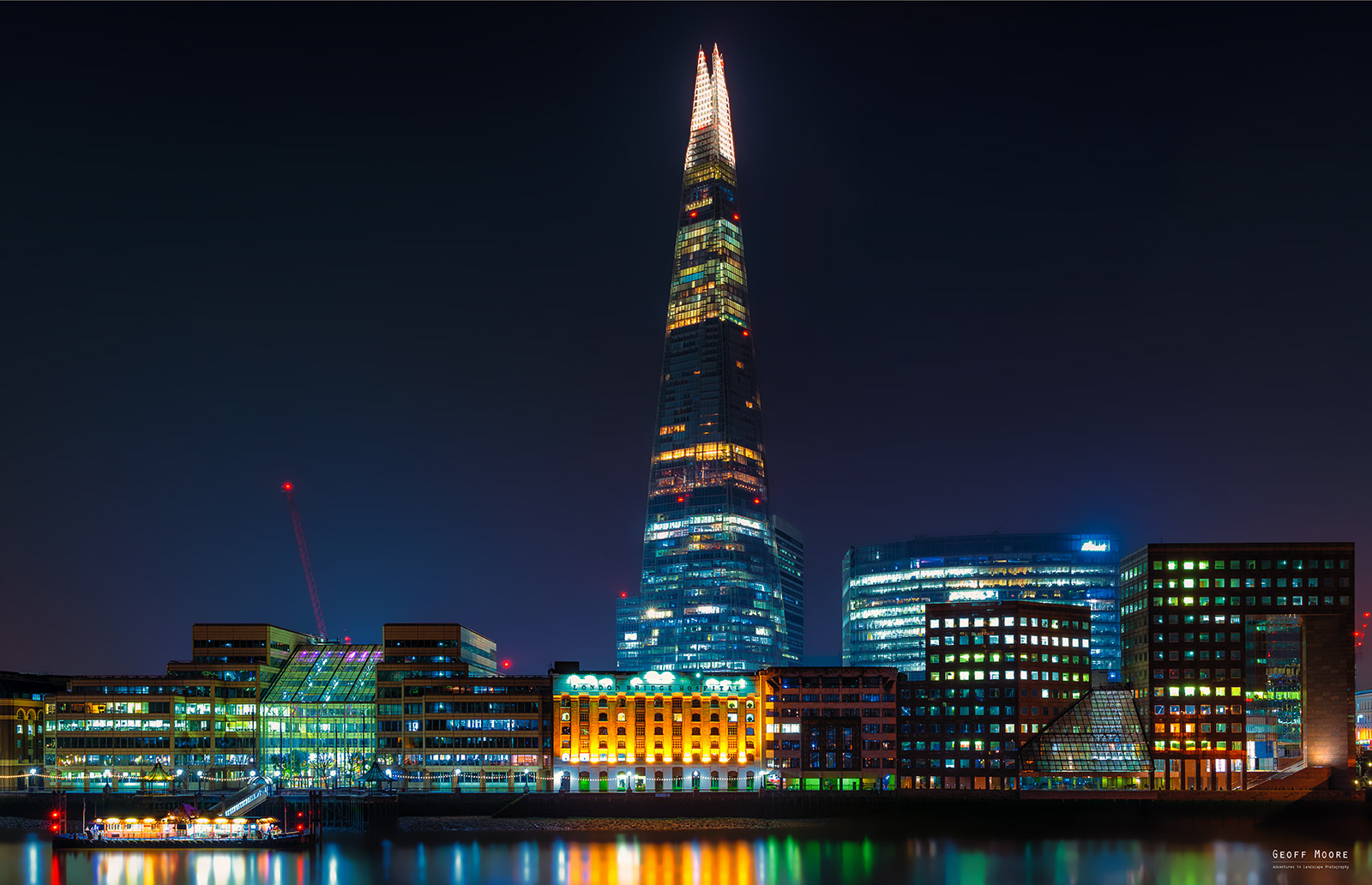 Image Title: Dreaming In Neon

Pentax K-1

Camera used:

Pentax FA 28-105mm f/3.5-5.6

Lens used:

28mm

Focal length:

f/11

Aperture:

20"

Exposure time:

100

ISO:
The Shard also referred to as the Shard of Glass, Shard London Bridge and formerly London Bridge Tower, is a 95-storey skyscraper in Southwark, London, that forms part of the London Bridge Quarter development. One thing I would have liked to have done on this adventure would have been a series of long exposures of the London buses, alas this wasn't practical on this occasion, I can always pop to Worcester one night to cross this one off.

Moving in the direction of Night landscapes with Architecture, the Shard is one of those buildings that simply cannot be ignored, view-able from almost every corner of central London this skyscraper caters for every need, from offices to hotels, restaurants to apartments. At night it is illuminated in various tones and hues of colour from the surrounding buildings and its own internal lighting. It makes for a very striking subject at any of time of day but particularly at night.
Trying to do some some longer exposure photography the biggest challenged that faced was the constant flow of aircraft circling overhead on their approach to Heathrow Airport no doubt, this meant that any long exposure night photography would have to take in to account these aircraft and their lights entering the frame so timing was critical other wise the image would be spoiled with the lights of the aircraft causing lines throughout the image and composition.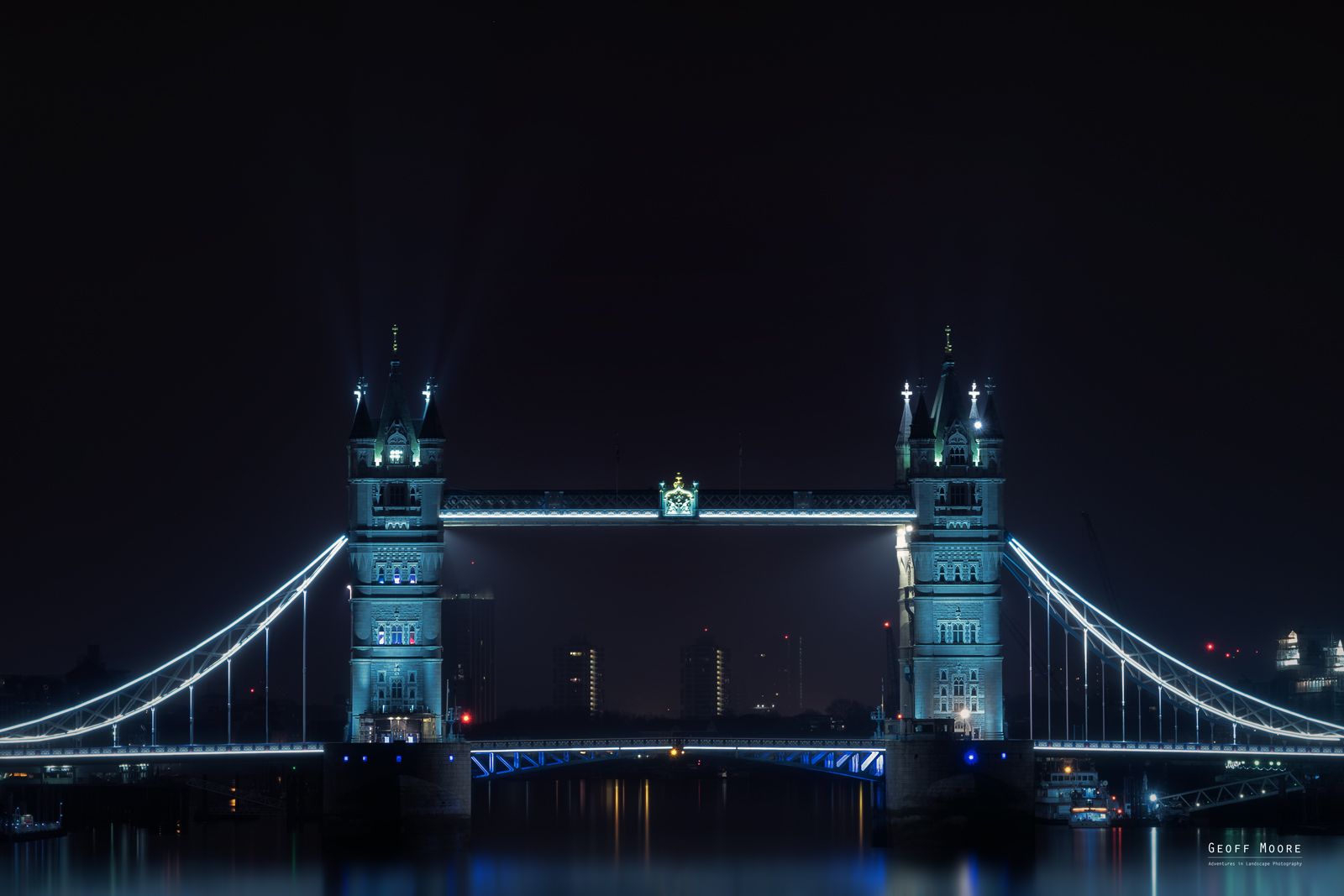 Image Title:

Canon 7d Mark2

Camera used:

Pentax FA 28-105mm f/3.5-5.6

Lens used:

80mm

Focal length:

f/11

Aperture:

10"

Exposure time:

100

ISO:
Tower Bridge Illuminated At Night.
Although not included in this sub section, looking east down the Thames HMS Belfast can been seen with Tower Bridge further in the distance, the composition was all wrong and I didn't have a longer zoom in order to isolate the subject as I would have liked, the 70-200 for me was just a little too short for what I wanted to achieve. However, we planned to move back down the Thames after shooting the sunrise from Millennium Bridge, so with this in mind I would have a second chance of Shooting HMS Belfast and so we moved on to our next location.
Image Title: Fishermans Friends

Pentax K-1

Camera used:

Pentax FA 28-105mm f/3.5-5.6

Lens used:

28mm

Focal length:

f/11

Aperture:

10"

Exposure time:

100

ISO:
The classical looking building is the Fishmongers' Company is one of the Twelve Great Livery Companies of the City of London, and among the most ancient of the City Guilds. Established for over 700 years, as well as fostering the fellowship among their members, they have upheld standards in the trading of fish and shellfish and supported the fisheries industry. Limited Edition Print Here > Fishermans Friends

Racing The Sun
What only seemed like a short space of time it was now obvious that the light from dawn was starting to grow in the early morning sky, with this at the forefront of our minds we quickly discussed moving over from our position on the the north side of the Thames, over London Bridge and to making our way to Millennium Bridge, the distance was deceptive, just short of a mile and a race against time as the dawn light was building faster than we had anticipated.

Whilst making our way, we stumbled upon a small space amongst the buildings near the Golden Hind II allowing us a clear view across the Thames and back into the commercial district. Although pressed for time, it was too good of an opportunity to pass up, and thus this was only a brief stop, but on reflection from the adventure it has proven to be one of my favorite images - Fishmongers' Company. Time was pressing and we needed to get to Millennium Bridge before the sunrise and the masses of people who use it everyday on their commute in to the city.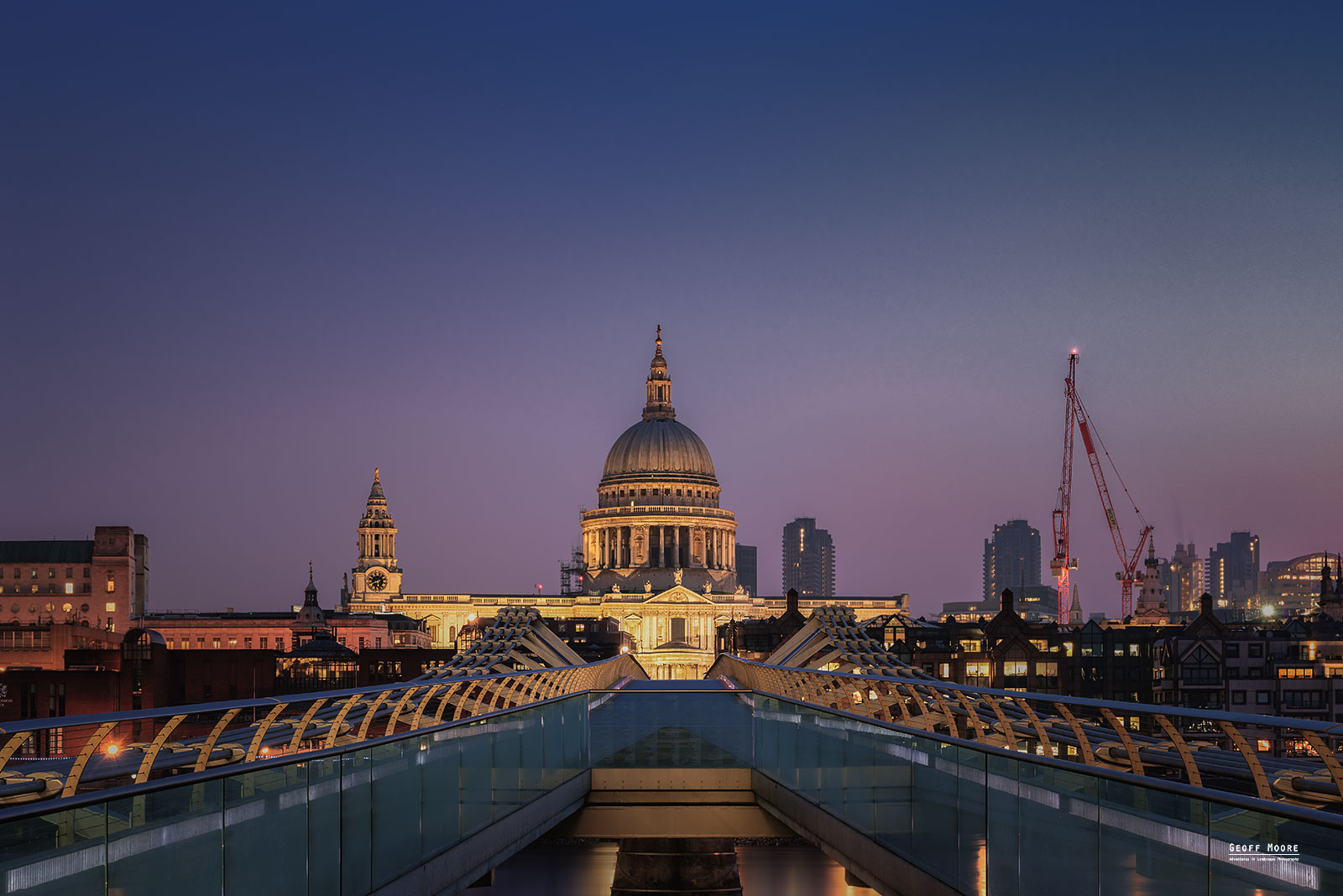 Image Title: Millennium View

Pentax K-1

Camera used:

Pentax FA 28-105mm f/3.5-5.6

Lens used:

58mm

Focal length:

f/11

Aperture:

25"

Exposure time:

100

ISO:
The Cliché Photograph - St Paul's From Millennium Bridge
The Millennium Bridge, officially known as the London Millennium Footbridge, is a steel suspension bridge for pedestrians crossing the River Thames in London, linking Bankside with the City of London. The view down the length of the bridge St Paul's south façade is presented from across the river, framed by the bridge supports. This is the de-facto, a-typical shot all photographers take when visiting the bridge, and timing is everything, as soon as the city wakes up its is nigh on impossible to photograph the bridge without anyone on it. Such was the case when we arrived for only a matter of a few minutes did we have the bridge to ourselves, runners, cyclists, walkers and business people soon descended upon us as the sun broke the horizon, the vibrations from the foot fall bounced around and made shooting from on the bridge nearly impossible.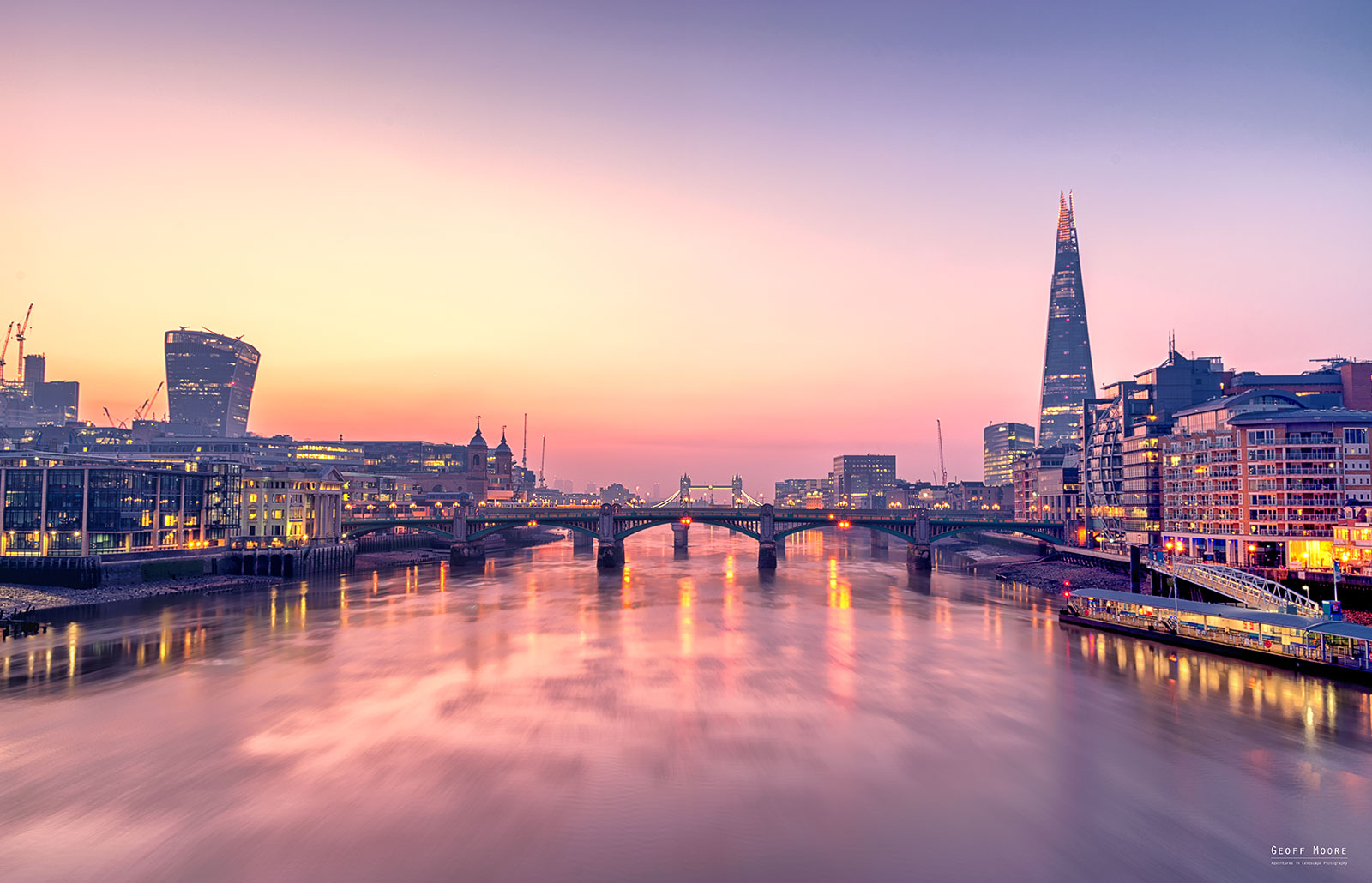 Image Title: Millennium View

Pentax K-1

Camera used:

Pentax FA 28-105mm f/3.5-5.6

Lens used:

28mm

Focal length:

f/11

Aperture:

5"

Exposure time:

100

ISO:
Photographing Tower Bridge & HMS Belfast
Our opportunity of several more shots became more difficult as the city woke up and the walkers and cyclists started to make use of the bridge, during this we became acutely aware of a gentleman who kept pacing the bridge whilst on his phone, and who had also became increasingly tense and animated, thus we decided to pack up and make our way to the other side of the Thames to photograph HMS Belfast.
When joining Pauls Walk to make our way back down the Thames, a RNLI Boat flanked by two Police boats raced to Millennium bridge and started circling the waters underneath less than a 100 foot from where we were shooting down the Thames to Tower Bridge. It soon became apparent that perhaps the animated gentleman, who was pacing the bridge earlier had perhaps been on the phone threatening to take his own life, but I dare say, if he had of jumped we didn't see it. Remarking on the developing situation and the accompanying land based police cars and ambulance, and then the quick dispersal of said emergency services, it would seem nothing was found, it was a hoax. We carried on our way to photograph HMS Belfast and Tower Bridge
Image Title: Tower Bridge & HMS Belfast - Thames Sunrise

Pentax K-1

Camera used:

Pentax FA 28-105mm f/3.5-5.6

Lens used:

35mm

Focal length:

f/11

Aperture:

1/160

Exposure time:

100

ISO:
HMS Belfast is a museum ship, originally a light cruiser built for the Royal Navy, currently permanently moored on the River Thames in London, England, and operated by the Imperial War Museum.
Bathed in the warm morning light of spring HMS Belfast strikes a dominating pose on the Thames, photographically it is interesting as its moored position allows several angles and compositions to be considered. The width of the Thames at this point also aids in providing plenty of reflective space for reflections to be fully rendered on the waters surface, with the correct light of course.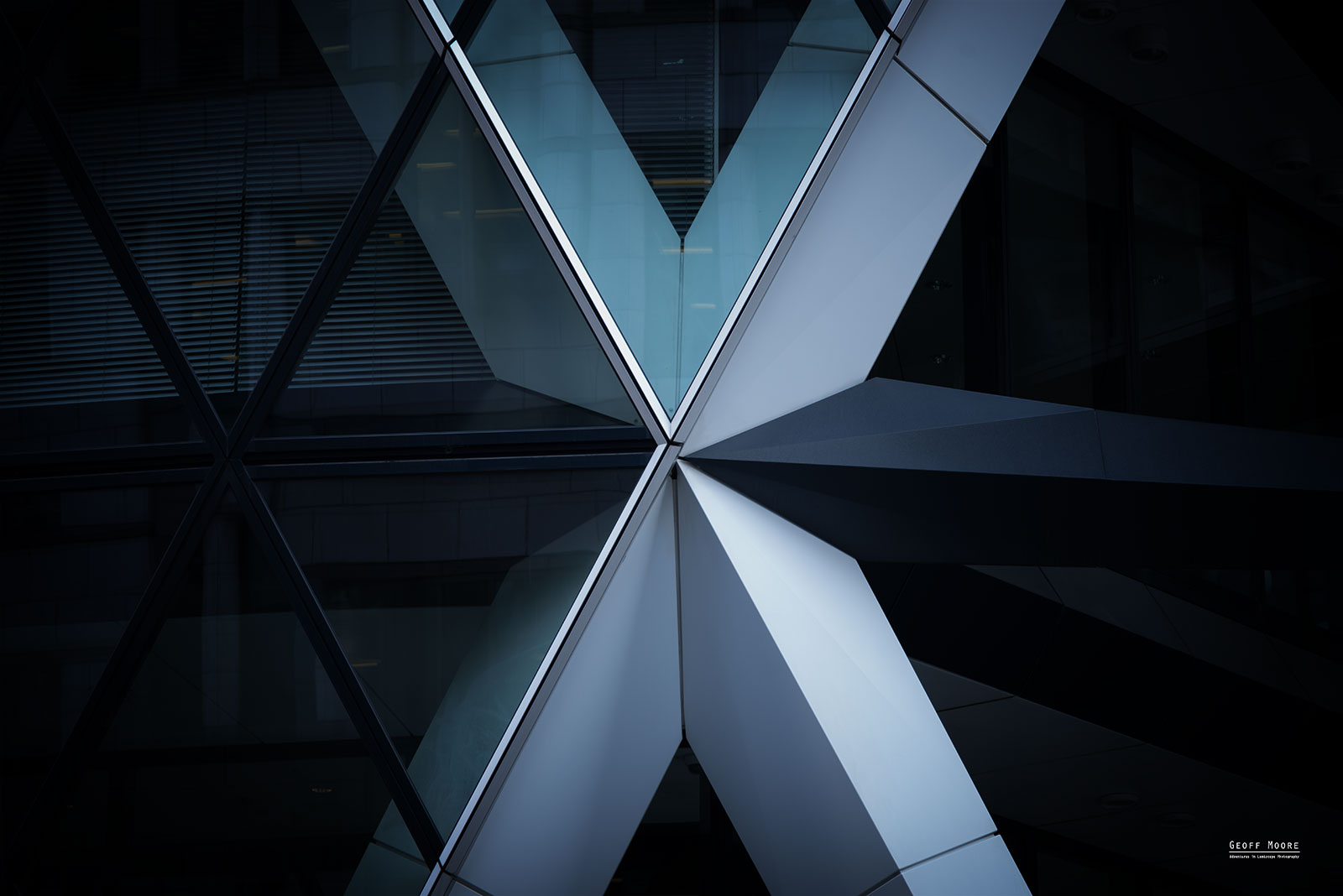 Image Title: X Y Z

Canon 7d Mark2

Camera used:

Pentax FA 28-105mm f/3.5-5.6

Lens used:

105mm

Focal length:

f/5.6

Aperture:

1/60

Exposure time:

200

ISO:
The Final Shot Of The Day
At the time of taking this photograph I was around 48 hours gone without sleep, and powered by double espresso! The day had now taken its toll and the camera had been resigned to the rucksack for several hours at this point. Having walked several miles around London both on our own and again as a party of flicker-ites we had manage to cover both night and day and several genres of photography styles, and at the last moment, inspiration was found to take one last photo before bidding farewell to our old and new friends and to the city that had been our playground, The Gerkin, proved to be a wonderful building to photograph, the architecture, lines and curves of the building make for a stunning shot regardless of the time of day or night. Detail can be found in both traditional landscape styles but also when framed a more intimate style as per my shot above. Time for Home.
How to get here
Enter your starting location on the box provided under the map to see the route from your starting location to London Bridge, London
Recent Photography Adventures
Why not read about some of my other photography adventures around the UK