Canary Wharf - London Flickr Meet
Image Title: We Play The Game

Pentax K-1

Camera used:

Pentax DFA 15-30mm f/2.8

Lens used:

28mm

Focal length:

f/6.3

Aperture:

1/60

Exposure time:

1600

ISO:
Following on from last years highly successful and enjoyable Flickr group meet up in London the fabulous and talented Andy Rouse decided to arrange a return trip in 2018. This time the subject of the groups photography would be a days shooting around Canary Wharf and the surrounding docklands.

Image Title: Warp Speed & The Bird Police

Pentax K-1

Camera used:

Pentax DFA 15-30mm f/2.8

Lens used:

21mm

Focal length:

f/11

Aperture:

15 Sec

Exposure time:

100

ISO:
Introduction
As you will all have probably guessed from reading my blog, Mark and I like to get a head start on a days shooting and try to squeeze every moment out of an adventure, so we decided to retrace our steps from 2017 and go down early to capture Canary Wharf and the interesting buildings of the larger estate. What ensured however was a Cat and Mouse adventure in the early hours of Saturday morning with Canary Wharf security.
Canary Wharf is a busy financial area filled with skyscrapers like the glittering One Canada Square. Canada Square Park hosts summer concerts and a winter ice-skating rink, while the Museum of London Docklands draws families with model ships and hands-on displays. Casual cafes bustle during the day and, come evening, post-work crowds gather in stylish wine bars and pubs. Ferries called Thames Clippers ply the river however it will come with no surprise the vast majority of these attractions are closed at 3 am in the morning but that did not perturb us from trying to photograph these locations.
On this occasion our band of merry men (2) was increased by one with the inclusion of Clive who is also a fantastic photographer in his own right and the three of us set about capturing the sights and sounds of one of London's most famous areas.
The Bird Police & Photography
Canary wharf is technically private ground, they generally permit access by the members of the public, and as long as your sensible and polite you really shouldn't have any issues general purpose non commercial photography on the estate. In fact the press office for the estate have previously stated the following...

"If your images are not being used for commercial purposes you do not need a permit.
Use of a camera and tripod is fine.
Please do not photograph building entrances or security arrangements"


As such, if you fall foul of the above you can and should expect to be asked to leave at a moments notice however, although this was understood and we expected to be challenged on our reasons for being there etc, we hadn't expected to be tailed by a gaggle (nine at one count) of security guards all night less than 6 foot away, whose vocabulary did not extend past barking orders of 'move on' and 'no, no tripods' and my favorite 'professional!, no no no'.

Despite our best and most polite efforts to explain our intentions and drawing attention to the official statements on photography from the estate press office we decided to move away from the core of Canary Wharf and into 'quieter areas' in the hope the security detail would be happy with our concession alas this wasn't to be.
Without going in to further detail on the events of the night I'm sure the picture has been painted, for other photographers who are thinking of visiting Canary Wharf the following official exchange between the 'Estate Security Manager and another photographer is well worth a read here https://www.flickr.com/groups/...
Obviously this is a little dated now, but in comparison to our experience, there are several parallels to be drawn from the above exchange and our visit. Therefore if you are thinking of visiting Canary Wharf I would highly recommend you contact the press office and log your planned visit, time and date and intention. This one would hope, should avoid any unnecessary and at times moronic interaction with the private security that's employed. On to the image!
The above image is technically bad timing, you see when hunting for a specific bird around a certain wharf in a certain capital city one must be able of photographing at Warp Speed. This key skill is required if you are to capture your quarry and avoid the Bird Police in the process. Unfortunately I got caught just before exiting warp speed successfully. A quick cussing later, a radio call, and the arrival of several more 'Bird Police' I was closely 'monitored' at arms reach and within aftershave range, literally! I picked up my camera and tripod I made my way back to Mark and Clive who were trying to photograph the futuristic Adams Plaza Bridge

'Jobsworth' - an official who upholds petty rules even at the expense of humanity or common sense.
---
Image title: We Play The Game

Pentax K-1

Camera used:

Pentax DFA 15-30mm f/2.8

Lens used:

15mm

Focal length:

f/2.8

Aperture:

1/100

Exposure time:

100

ISO:
Run & Gun Style Photography
Upon catching up with Mark and Clive with my security entourage in tow, we were then accosted by a second team of security looking chaps, across the road. Interestingly enough the two security details couldn't not talk to each other, despite there only being a single carriage road width between, instead they insisted on radioing over, the 'events of the night' at which point detail 2 picked up the adventure.
We were approached again, as we made our way to the other side of the road, we explained again, they repeated the chit chat ... 'move on' and 'no, no tripods' And this was pretty much the interaction for the majority of the night, where one set of 'Bird Police' left another set picked up, it was quite co-ordinated, each team had a designated zone and efficiently radioed to the next team, meeting us as we moved from one zone to the next, the process of being stopped and us having to repeat for the 5th, 6th, 7th time who we were and what we were doing proved tiring however, for the most part as we moved away from the banking sector the guards became more relaxed and amenable to our presence and one actually took an interest in the photos we were producing, I suspect he may have been a member of a local London camera club, but perhaps hasn't told his colleagues.

Canary Wharf railway station is currently under construction on the Isle of Dogs in east London, as part of the Crossrail project. Construction began in May 2009 and the station is expected to open in 2018. The photo is of Adams Plaza Bridge shot around 3am which connects Crossrail Place to One Canada Square. It forms part of the Canary Wharf Crossrail Station
During the project's development the station was named Isle of Dogs, before the current name was adopted. It will cost an estimated £500 million to build. The station will be situated between Whitechapel and Custom House on the Crossrail line, and it will provide an interchange with Canary Wharf tube station on the London Underground and Poplar DLR station on the Docklands Light Railway.
---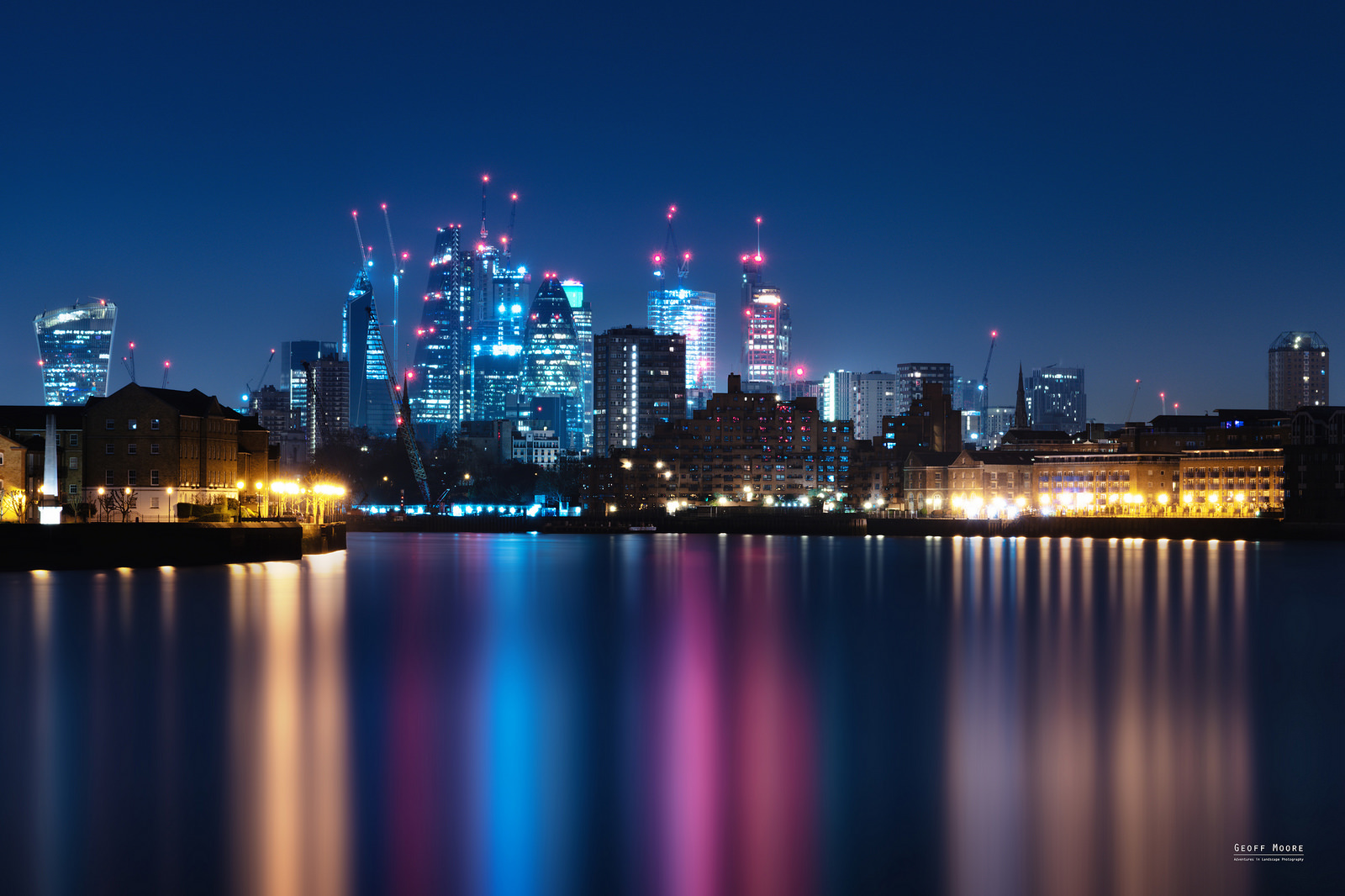 Image Title: Neon Dreams

Pentax K-1

Camera used:

Pentax DFA 28-105mm f/3.5-5.6

Lens used:

105mm

Focal length:

f/11

Aperture:

60 Sec

Exposure time:

100

ISO:
Nighttime Cityscape Photography
Perhaps my least favourite image from the adventure around Canary Wharf, Included as to keep the timeline progression as we moved away and eventually out of the commercial zone and down to the river thames to photograph the city skyline back to the City of London and the Shard.
Main reasons for not liking this image is perhaps this was the only time during our early hours adventuring in Canary Wharf where by I had the opportunity to actually compose a shot and take some time over it, yet the pressure of the previous couple of hours had really put a dampener on my photography spirit and ability to concentrate. The previous shots, were grabbed quickly and such if they came out ok that was a bonus but they were not expected too.
The constant fear of being approached, gestured too and or just generally oinked at made capturing an image I was satisfied with all the more difficult. As such, anxious to get something within my comfort zone, this image this feels somewhat rushed in both composition, lens selection and thought process, when the reality was I had a lot more time and space to take my time with this image. Thankfully the crop tool in photoshop came to my aid.
---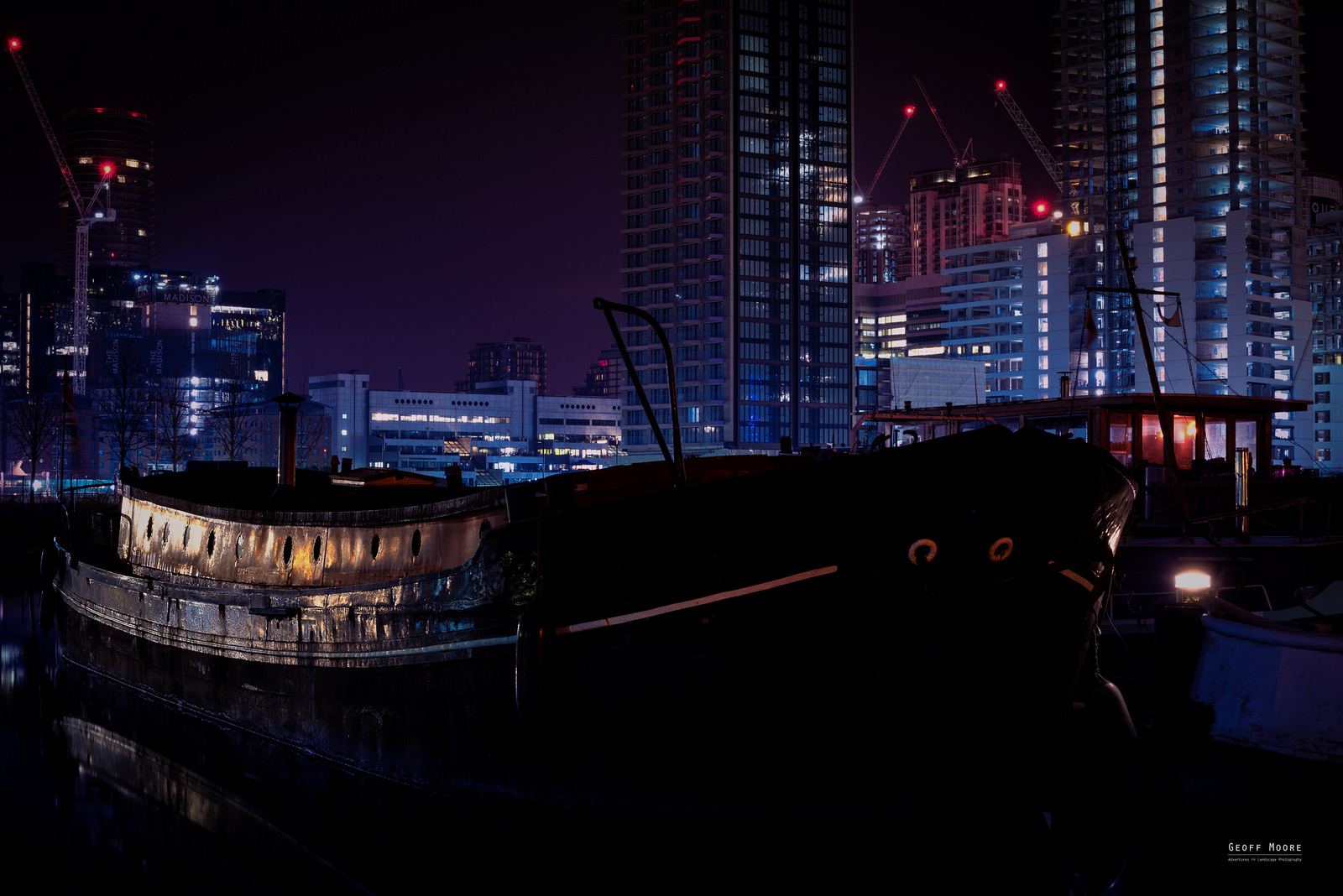 Image Title: The Ole Tin Boat

Pentax K-1

Camera used:

Pentax DFA 28-105mm f/3.5-5.6

Lens used:

53mm

Focal length:

f/11

Aperture:

60 Sec

Exposure time:

100

ISO:
Old & New Worlds Collide
Moving away from the 'Nerve' centre of Canary Wharf security we happened upon a boat yard, this was on our way to photograph the O2 Arena at sunrise, which was quite a walk and proved equally difficult to get to our vantage point, for yet again, more private security. Being a lad from the countryside, the vast majority of my interactions with private security is with negotiating Hedgerows, Cows and Geese with the latter being a formidable deterrent!

Alas, after 50 questions the three of us made our way around Popular Dock Marina onto Blackwell Basin and then on to the waterfront over the top of Blackwell Tunnels, in order to photograph the The Millennium Dome / O2 Arena...
To be under constant surveillance, and approached by private security personnel, whose first language was evidently not English, and the command of which was limited, proved to be a real challenge. If you are going to be upholding laws and regulations, and restrictions, then it should be done in the primary language of the general public otherwise I fear much of what was discussed was lost in translation and my limited charade skills made communicating in an Orwellian police state very difficult at best.
---
Image Title: Beyond Thunderdome

Pentax K-1

Camera used:

Pentax DFA 28-105mm f/3.5-5.6

Lens used:

40mm

Focal length:

f/11

Aperture:

1.6 Sec

Exposure time:

100

ISO:
Having had to take a long winded walk to get to our planned shooting location, at first light it looked as though we were going to get a really nice sunrise, however it petered out quite quick and left us with a real stunning blue cloudscape, which was so striking I have had to tone back as it looked Photoshop'd even before pressing the shutter.
With dawn happening this brought an end to our night time adventure at Canary Wharf and packing up with set off back to Canary Wharf Station to meet up with our friends from Flickr for the day shoot.
The O2 Arena is a multi-purpose indoor arena located in the centre of The O2 entertainment complex on the Greenwich Peninsula in south east London.
---
Image Title: House of the Flying Guillotine

Pentax K-1

Camera used:

Pentax DFA 15-30mm f/2.8

Lens used:

25mm

Focal length:

f/11

Aperture:

1/50

Exposure time:

100

ISO:
One of the few images taken during the day, when exploring Canary Wharf on the weekend.
Reminiscent to my minds eye of a classic location and scene out of a 70's Kung Fu film era, I couldn't resist this one ... just needs sound.. oh go on then!
---
How to get here
Enter your starting location on the box provided under the map to see the route from your starting location to Canary Wharf, London
Recent Photography Adventures
Why not read about some of my other photography adventures around the UK