North East Grand Adventure
Image Title: The Whitby Anchor

Pentax K-1

Camera used:

Pentax DFA 28-105mm f/3.5-5.6

Lens used:

31mm

Focal length:

f/11

Aperture:

150 Seconds

Exposure time:

100

ISO:
A wet cold and miserable Friday afternoon in winter is a depressing thing, the continuous patter of rain against my office windows only added to the doldrums of yet another week passing by, with little of note, but this was all about to change with brrr brrr notification of an SMS arriving on my mobile phone.
Reading the SMS that had just arrived it was from long suffering partner in photography crime Mark who asked If I fancied a weekend in the North East of England photographing the sights and sounds, of Whitby, Saltwick Bay, Redcar and Whitley Bay to be precise.
His wife was going to Yorkshire for the weekend to meet some of her girlfriends and he would be the nominated driver to take her up and rather then simply driving back the same day Mark suggested that perhaps we too could make a weekend of it by grabbing a guest house in Whitby and then using that as our base to visit some of the famous landmarks on the North East coast. Obviously who am I to stand in the way of such grand adventures and I promptly replied, 'When you planning on going?' to which Mark responded "in about 2 hours!" glancing at my watch that was less than 2 hours away!
I arrived at Mark's shortly before 18:30, packing my overnight bag and camera into the boot of the car the three of us set about our journey northwood to York, dropping Gill off on the way and then to make our way to Whitby to photograph the Abbey and then an overnight sleep in the car, before checking in to our B&B the following morning.
The drive up to York was your typical friday night rush, with people heading north and south to make most of the weekend, whilst dodging the inevitable road works and road closures the UK enjoys so much, progress was also hampered by worsening weather as we made way, Having dropped Gill off at her Air BNB at around 10:30 and then set about heading over to the Whitby hoping to arrive just after 00:00
---
Image Title: Whitby Abbey

Pentax K-1

Camera used:

SMC Pentax-DA* 60-250mm f/4.0

Lens used:

50mm

Focal length:

f/10

Aperture:

25 Second

Exposure time:

400

ISO:
Photographing Whitby Abbey
(Whitby Abbey was a 7th-century Christian monastery that later became a Benedictine abbey. The abbey church was situated overlooking the North Sea on the East Cliff above Whitby in North Yorkshire, England, a centre of the medieval Northumbrian kingdom)

By midnight the weather had turned, rain and heavy cloud covered the high ground in Whitby and the ruins of the abbey could be seen illuminated in the murk (rather mirk which I prefer) by the standing floodlights, with no reasonable place to park, we drove around the perimeter wall looking for a suitable vantage point. Clearly stopping and parking up was not allowed and the various signs dotted about the place indicated that this was perhaps a 24/7 rule.
Driving laps around the estate probably risked drawing more attention to ourselves then if we had just pulled up and piled out to take photos especially after midnight, still, having to explain oneself to the local bobby is something I'd rather not have to do. Alas a slight widening of the road allowed us to chance that risk as we quickly pulled over, jumped out and grab a record shot or two of the abbey ruins. Quickly jumping back into the car and setting off on or circular drive around the estate once more we discussed the limited photography options, and what we could do instead. With the remaining evening we decided to head out of Whitby to our overnight stay, on the headland above Saltwick Bay and the haunting tragedy that is Admiral Von Trump Shipwreck. If you wondering where we parked overnight then here is a link to the parking bay that gives fantastic access to Saltwick Bay beach.
---
Image Title: Admiral Von Trump Shipwreck

DJI Mavic Air

Camera used:

DJI 24mm f/2.8

Lens used:

24mm

Focal length:

f/2.8

Aperture:

0.6 Seconds

Exposure time:

100

ISO:
The Mysterious Sinking of the Admiral Von Tromp
Sleeping in a car overnight is never a comfortable thing especially when its shared and there is a storm lashing the car, still, I managed to get a couple of hours sleep and although I felt worse for wear, I knew the resoritive fresh air of the North east sea would soon put me right. Sunrise was only an hour or so away and the weather had calmed enough to encourage our spirits. Clearing the condensation from the windows, a deep pre dawn blue illuminate the seascape, sensing that time and the weather could still be against us we grabbed our camera gear from the car and made our way down the winding headland path to the beach below where we would stumble across the fascinating but also terribly sad story of the Admiral Von Trump.

On Saltwick Bay near Whitby lies a wreck. Many people stand and stare at this. Many a tourist will ask the name of the stricken vessel. It is a wrecked trawler named the 'Admiral Von Tromp' which foundered In October 1976. The curious will then ask how it got wrecked. That's more difficult to answer. It is still a mystery which will never be fully solved. The one man who could have solved the riddle died in the water that day.
At 1am the Skipper Frankie Taal set off from Scarborough Harbour. Mr Walter Sheader of 10 Longwestgate, pierman on the West Pier, helped cast them off. He stated that everything seemed normal and that the crew were definitely not drunk (if they had been the whole thing may have been easier to explain). Frankie Taal set a course for the Barnacle Bank fishing grounds - 45 miles NNE of Scarborough. He then had a cup of coffee then came back to check again on John Addison. Everything seemed normal and he went to bed leaving Addison on the wheel - he was an experienced man on the wheel.
Then skipper Frankie Taal was woken as the vessel was bumping and heeling. Crew member John Marton thought the boat had been run down - it simply didn't enter his mind that the boat could have gone on the rocks. The boat was heeling over off Black Nab on Saltwick Bay. The skipper was incredulous and asked Addison "What the hell are you doing!". He simply looked back in stunned silence.
How exactly did a modern boat with all the navigational aids run aground on Saltwick Bay. The weather wasn't bad and they had enough fuel? It was foggy but that shouldn't be a problem as they were not heading anywhere near the coastline. Captain Abbey from the coastguard even charted the boats course and when it sank it was heading due west. That was 90 degrees off course. The boat had been heading straight towards some of the worst rocks on the coast!
Strangest of all was the testimony of a senior nautical surveyor at the inquest. He stated that the boat if left to its devices would not have gone onto the rocks. It really was driven onto the rocks by a deliberate act.
Frankie Taal made valiant attempts to save the boat. They all put their Lifejackets on and then he tried to anchor the boat. Then the vessel turned broadside and it then started to fill with water. He had already sent out a mayday - having to get John Addison out of the way - who was still looking stunned and was powerless to act. The boat was now sinking in thick fog, with a heavy swell breaking on the stern.
The rescue proved very problematic. The boat was heeling over. Frankie Taal ordered the crew to hang onto the starboard side but the seas were too heavy. They instead went back into the wheelhouse. They stayed here for an hour. The wheelhouse slowly filled with water and in the end their heads were banging on the ceiling. In the end they had to leave through an open window - Skipper Taal was last out. Addison was already dead at this stage - drowned in the wheelhouse.

---
Image Title: Admiral Von Tromp Shipwreck Remains

Pentax K-1

Camera used:

Pentax DFA 28-105mm f/3.5-5.6

Lens used:

28mm

Focal length:

f/16

Aperture:

1 Second

Exposure time:

100

ISO:
Photographing the remains of the Admiral Von Tromp Shipwreck

The rescue showed how difficult it is to save lives even in the modern age. The Whitby Lifeboat tried again and again to get near and failed. The Coxswain of the Lifeboat, Robert William Allen, even spoke to the skipper - who said that everyone was alive. The boat tried 7 times to get close. At one point the vessels even touched. Yet heavy seas and fog hampered the rescue. They could even have snatched the crew yet at that moment they were still imprisoned in the wheelhouse. Rocket lines were thrown by the Coastguard but again this failed because the crew were trapped inside the wheelhouse.
When they left the wheelhouse then problems were bound to occur. George Eves was on top of the wheelhouse yet a huge wave knocked him off. That was the last the skipper saw of him. He died drowned. Skipper, Taal was washed overboard and was eventually saved by the inshore Lifeboat. He drew their attention with his whistle on his Lifejacket. The Coastguard had thrown him a line but he did not have the strength to catch it. The other survivors were washed ashore.
It was a tragic loss with two men dead. Quite why it happened will never be explained - Addison died in the water. He drowned and pathology reports showed no signs of alcohol. He spoke to Alan Marston just after the accident happened just saying 'Oh Alan!' in a quiet apologetic voice. He seemed stunned and unable to act. Skipper Taal had to remove him from the wheel in order to try to rescue the boat.
The crew onboard the Admiral Von Tromp were:
- Frankie Taal, 35 Princess Street, who had 23 years at sea - saved by inshore lifeboat.
- Alan Marston, mate, 22 Longwestgate - survived.
- Mr Anthony Nicholson, engineer, 6 Avenue Road.
- Mr George Edward Eves, East Mount Flats, Scarborough,fish hand - who drowned
- Mr John 'Scotch Jack' Addison, Spreight Lane Steps, drowned in the wheelhouse - his body was found on 25th October In Runswick Bay.
A Silver Medal was awarded to RNLI Lifeboat Coxswain Robert Allen. He had skillfully dropped anchor and tried to drift towards the trawler. A Bronze Medal to the Helmsman of the inshore Lifeboat, Richard Robinson, for taking Frankie Taal off Black Nab.
Sources - Scarborough Evening News 11th November, 1976.

Admiral Von Tromp Shipwreck The History

---
Ocean Detail Triptych
(A collection of detailed images showing the beauty of the rock pools found at and around Saltwick Bay just outside of Whitby)
Having scouted around the beach and photographed the shipwreck from various angles I soon released that the sunrise must be upon me. The landscape had fully illuminated, moving from the dark blues of an early blue hour in the dull drab grey of an overcast day, it was at this point I realised that sunrise must have come and gone, checking my watch it had happened more than 40 mins ago, unfortunately the heavy cloud and intermittent drizzle had excluded any chance of a decent sunrise and any pink toned dawn light would have escaped me for another day.

---
Image Title: Ocean Detail Triptych

Pentax K-1

Camera used:

Pentax DFA 28-105mm f/3.5-5.6

Lens used:

68mm

Focal length:

f/11

Aperture:

1.3 Second

Exposure time:

100

ISO:
Having got several shots of the shipwreck and with the light being less than favorable for landscape photography I turn to my tried and tested rule of thumb! It goes something like this... If the light is poor for landscapes, then look for details, if there are no details then look for textures. Using this process has always enabled me to come away with an image im happy with despite the conditions often being less than ideal for my chosen subject or location, and If you find yourself struggling with the same, give my method a go and let me know how you get on.
Looking around I found several interesting square shaped rock pools, now I assumed these were naturally occuring, but what really took my interest was the contents. At first I found a single stone pebble resting in the middle of the pool, edged on all sides by stunningly pink/reddish algae. Along with the pebble were smaller stones of various colours and shapes, the composition was most intricate and I thought would make for an interesting image. Thinking this further I wondered if I could find an example of 2 pebbles then 3 and the idea of the mini ocean details was born. I have included the images below, what do you think?
---
Image Title: Saltwick Bay Rock Pool #1

Pentax K-1

Camera used:

Pentax DFA 28-105mm f/3.5-5.6

Lens used:

68mm

Focal length:

f/11

Aperture:

0.6 Second

Exposure time:

100

ISO:
---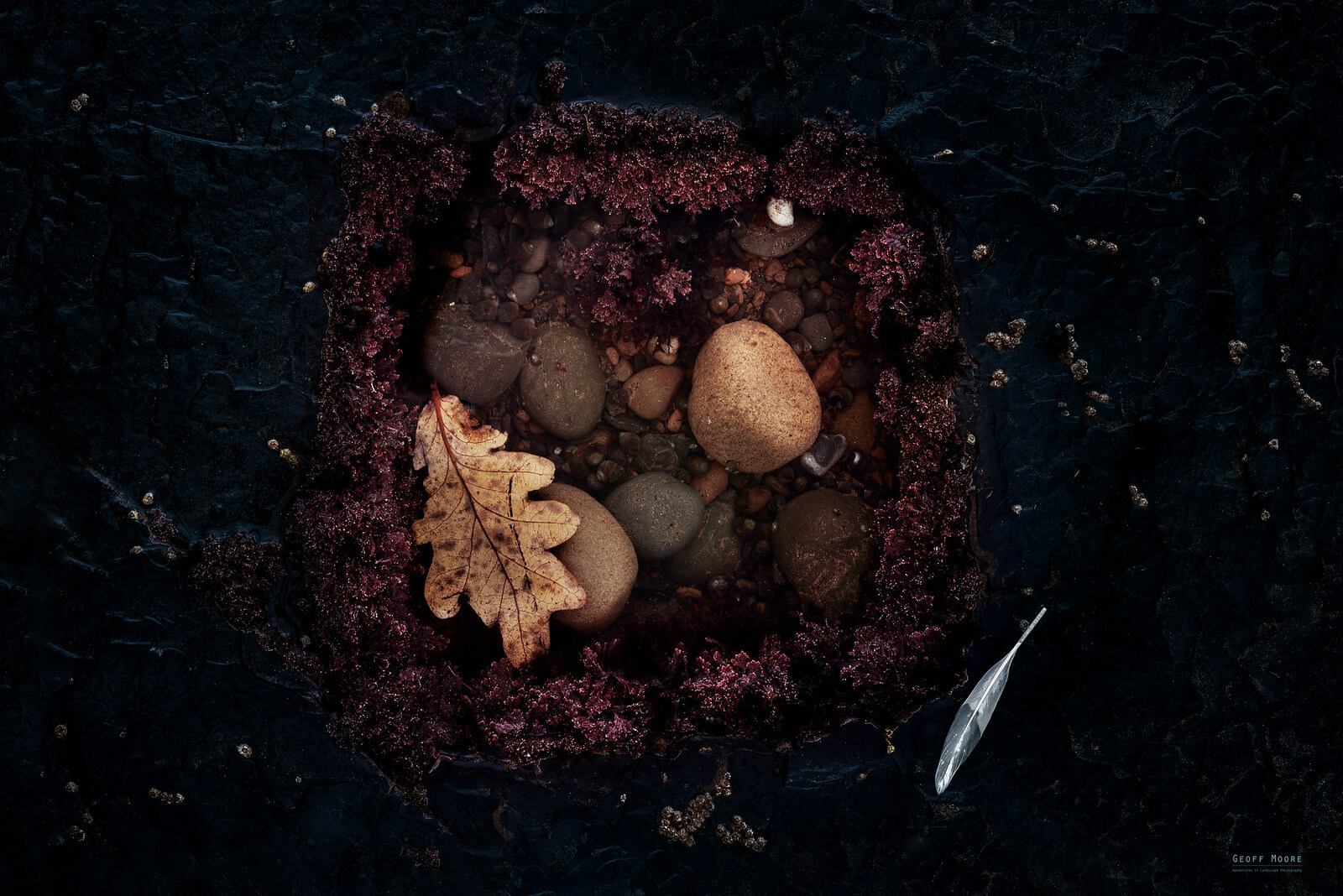 Image Title: Saltwick Bay Rock Pool #2

Pentax K-1

Camera used:

Pentax DFA 28-105mm f/3.5-5.6

Lens used:

68mm

Focal length:

f/11

Aperture:

0.6 Sec

Exposure time:

100

ISO:
---
Image Title: Saltwick Bay Rock Pool #3

Pentax K-1

Camera used:

Pentax DFA 28-105mm f/3.5-5.6

Lens used:

68mm

Focal length:

f/11

Aperture:

0.6 Second

Exposure time:

100

ISO:
---
Getting Some Sleep
By mid morning both Mark and I were starting to feel pretty weary with the lack of any real sleep, combined with the chill from peppering of showers, that kept sweeping in from the sea, eating away at our concentration and motivation to keep capturing more images. Noticing that the tide had turned and airing on the side of caution not to be cut off with our backs against the cliff face we decided to call an end to the morning shoot and make our way back to Whitby to find our B&B and check in.
Hiking back up the cliff path was a lot harder going back up then it was coming down, being cold, tired and hungry is not great and it seemed an age to get back to the relative shelter and comfort of the car. Eventually we reached the cliff top stairs, avoiding the incoming tide as we did and made our way up to the car park on top of the headland. Our next stop! Bramblewick B&B Whitby a hot shower, and some much needed sleep was in order in preparation for our evening shoot at Whitby harbour.
---
Image Title: The Whitby Anchor

Pentax K-1

Camera used:

Pentax DFA 28-105mm f/3.5-5.6

Lens used:

31mm

Focal length:

f/11

Aperture:

150 Seconds

Exposure time:

100

ISO:
Whitby
Emerging from the B&B in the late afternoon light, after a couple of hours sleep is quite disorientating, confusion about what day it was or what time it was resulted in some comedy factors, with smiles on our face and re-enerised by a little sleep we made our way down to the harbour to photograph the last of the afternoons and early evenings light.
The streets were packed with visitors and people milling about, I was taken aback a little, at the volume of people, as my perception of Whitby before visiting was a small sleepy coastal village/town where not much happened, with perhaps a few shops and some locals going about their business, but the reality was a hustling and bustling town full of tourists, packed bars, cafes and shops and thriving community of artists, performers and attractions.
Making our way through the old town we emerged at the Harbour and the iconic Anchor. The anchor makes for a perfect foreground interest any photograph looking out down the harbour and out to sea and has done so in many a photographers portfolio and for good reason.
THIS ANCIENT TIMBER STOCK ANCHOR WAS BROUGHT UP IN THE NETS OF M/FV "OCEAN VENTURE" OF WHITBY FROM AN AREA OFF MAW WYKE ON NOV. 19 1981 AND PRESENTED TO THE TOWN BY HER SKIPPER MR. J. HEBDEN AND CREW
---
Image Title: Approaching Storm

Pentax K-1

Camera used:

Pentax DFA 28-105mm f/3.5-5.6

Lens used:

40mm

Focal length:

f/8

Aperture:

60 Second

Exposure time:

200

ISO:
Having got several images of the Anchor we realised the afternoon light was quickly fading into the first stages of night with an early blue hour developing along with a storm forming out to sea and no doubt headed our way we relocated a little further down the harbour where the squally weather was starting to pick up with the ocean waves were now beginning to crash against the harbour walls.

Getting an interesting shot from this location proved more challenging than I had anticipated, not only were many people jostling for space on the walkway, the wind and waves had really picked up and my overly cautious view on things started to take hold. Considering the worst case scenario and irrational fear of getting swept out to sea or weighed down to the sea bed by my camera gear I held off from venturing too far, the spray from the crashing waves was quite intense, cold and icy however I did manage to grab a long exposure shot of the fishermen going out to sea for the evening catch.
---
Image Title: Gone Fishing

Pentax K-1

Camera used:

Pentax DFA 28-105mm f/3.5-5.6

Lens used:

100mm

Focal length:

f/5.6

Aperture:

25

Exposure time:

200

ISO:
Speaking of catches, finishing up for the day and retiring back to to the B&B we decided to grab a drink and our evening meal, Old Peculiar on tap at the Board Inn Whitby was a gem of a find and after 4-5 of these it was time to grab some dinner and thankfully The Edge Whitby delivered a fantastic meal and some great wine which we enjoyed. A few hours later we stumbled back to our B&B in preparation for an early morning shoot at Saltburn-by-the-Sea, a short drive up the coast. Hiccup!

---
Image Title: The Lone Surfer

Pentax K-1

Camera used:

SMC Pentax-DA* 60-250mm f/4.0

Lens used:

98mm

Focal length:

f/4.0

Aperture:

1/400

Exposure time:

100

ISO:
Waiting for the wave! - Surfing in Saltburn
Saltburn-by-the-Sea

I hate alarms, I hate my morning alarm, that rings at full volume from my mobile phone, what I hate even more than these things is a morning alarm after a night on the booze! Ouch My Head!
Saltburn proved to be quite the challenge, now I'm not sure if this wasn't from the copious amount of booze from the night before or the mixed up sleeping pattern, but I just couldn't get a composition that I was particularly happy with. The location, Saltburn pier to be precise has all the elements to make an interesting image, a fantastic beech, long pier stretching out as far as the eye can see, and a very interesting cliff hoist. But for me I struggle and I really couldnt come away with an image I was completely satisfied with. Still, this is the ebb and flow of the photographers vision, or maybe it was the booze after all.

The Saltburn Cliff Lift is a funicular railway in Saltburn-by-the-Sea, Redcar and Cleveland in the ceremonial county of North Yorkshire, England. It provides access to Saltburn Pier and the seafront from the town. The cliff lift is the oldest operating water-balance cliff lift in the United Kingdom.

Saltburn Cliff Lift was constructed between 1883 and 1884 to replace a vertical cliff hoist, designed by John Anderson, which was used to transport passengers up and down the steep north-facing cliff between the town and the pier. It improved access for tourists to the seafront and beach. Designed by George Croydon Marks for the manufacturer Richard Tangye, the cliff lift has a height of 120 feet (37 m) and a track length of 207 feet (63 m), resulting 71 per cent incline. A pair of 12-person cars, each fitted with a 240-imperial-gallon (1,100 L) water tank, run on parallel standard gauge tracks; by removing or adding the water to their tanks, movement is achieved, regulated by a brakeman at the top.

The lift opened on Saturday 28 June 1884. The original cars have been replaced with aluminium counterparts and the top station restored, but little of the underlying mechanism has been changed since it was installed. Owned since the Second World War by the unitary authority of Redcar and Cleveland, the lift remains in regular use between March and October each year. It is one of Saltburn's most popular tourist attractions. Reportedly, the service was being used by an estimated 150,000 passengers per year by the twenty-first century.

In summary, I really didn't do Saltburn justice with my time and photography, it's a location that I would like to revisit in the future and perhaps spend a couple of days there. The town is full of history and facts really it's a location and it's worth a full getting under the skin of the place and to learn and explore. Alas our time was short at Saltburn and it was time to head on up the coast to Paddy's Hole, a reclaimed industrial wasteland with its hulking SSI Corus steelworks.

---
Image Title: Crunch - Paddy's Hole South Gare Redcar

Pentax K-1

Camera used:

Pentax DFA 28-105mm f/3.5-5.6

Lens used:

50mm

Focal length:

f/10

Aperture:

1/125

Exposure time:

100

ISO:
Paddy's Hole is a small harbour constructed from slag in the lagoon on the Teesmouth side of South Gare. It is named Paddy's Hole because of the many Irishmen who helped build the South Gare
This inlet of the river provides a safe haven for small boats and fishing craft which are left high and dry in the mud at low tide. However, the surrounding area is such a mix of contrasts. Teesport, oil refineries and chemical plants on the near horizon, sweeping views south across the sands to Redcar and the North Yorkshire coast and cliffs or north to Hartlepool and the Headland, the open sea, the river, sand dunes and mud flats, ships, small boats, fishermen's huts, a lifeboat station, wildlife, birds and fauna and Eston's ironstone hills on the far horizon and so much more.

Getting the above image was a rather uneasy process, I wasn't sure If I was walking on to private property, but followed a path that led me down the side of of some work units. Sat at the end of a narrow walkway were several workers enjoying a chit chat and cuppa tea, I approached and asked If I could take a few photos of the boats and view, all I was met with was with stares and silence, with the occasional puff of tobacco smoke exhaled. I was a little vexed by this, It wasn't a no and it wasn't a yes so I assumed I was being granted the time to take the shot and to move on before becoming a nuisance, either that or my Worcestershire country bumpkin accent had dumbfounded them. Walking back the semi mud and concrete sidings past the work units i made my way a little lower to the harbour and set about getting a quick image or two of the fishing boats and the industrial skyline in the distance.

Having spent an hour so wandering around the and looking for other suitable images the weather had once again begun to turn, with squally showers peppering the industrial wasteland, my spirits dwindled and whilst Mark was out capturing an image that he had seen previously in LPOTY (Landscape Photographer of The Year), I retreated to the warmth and comfort of the car. In hindsight I really wished I had put more energy and focus in to capturing this environment, especially in searching for a composition that would feature the SSI Corus. Alas I was not aware of its history and its status and the impact it had had on the town and local communities until I got home and researched the building. Having an opportunity to have photographed it, was really wasted and its with some regret I didn't pay more attention to the process. Ultimately the limited images I did take were all very lack lustre and failed to convey the scale, and menace the old steel works impose on the land around it.
Having spent a good portion of the morning it was time think about our return journey home, but along the way a night shoot at St Mary's Lighthouse in Whitby would be on the cards.

---
Image Title: St Mary's Lighthouse

Pentax K-1

Camera used:

Pentax DFA 15-30mm f/2.8

Lens used:

50mm

Focal length:

f/1.8

Aperture:

2 Seconds

Exposure time:

100

ISO:
St. Mary's Lighthouse is on the tiny St Mary's Island, just north of Whitley Bay on the coast of North East England. The small rocky tidal island is linked to the mainland by a short concrete causeway which is submerged at high tide.
Arriving shortly before high tide, the place was a mass of people milling about, youngsters in their cars and day trippers, the local law enforcement was in full force doing the casual slow drive by and the coast guard were making regular rounds. The weather had turned and like many of my adventures squally showers were main feature, although it was forecast to subside by nightfall and the onset of low tide. Knowing we had a few hours to kill we set about capturing some of the stormy sea and classic shots of St Marys, whilst awaiting the evening darkness to set in.
By 7pm the tide had completely turned and the causeway out to the lighthouse was fast emerging from the depths, having gotten several shot with of St Mary's with a stunning broken cloud and moonlit sky scape from high up on the headland I made my way down on to the exposed rocks and joined Mark in shooting a few more images, unfortunately It was at this point our luck had ran out. A sudden gust of wind took Mark's camera and tripod over, sending it head first into one of the nearby jagged rocks.
I reached for it as it tumbled in my peripheral vision but I was simply not quick enough to catch it, in turn with my outstretched reach and broken balance I had kicked my own tripod with camera attached sending it into a rocking wobble, thankfully I recovered and grasped at my tripod securing my hands around it, as my footling lost grip on the rocks, although saving my camera from joining Marks in the watery grave, I gave myself quite a jolt and from here it was decided our adventuring for the weekend had drawn to a rather abrupt end. Gathering our things and licking our wounds we made our way back to the car and a rather subdued drive home back to Worcester marks camera and lens in pieces, my back bruised, the conversation understandably fraught with ifs, buts and maybe's and insurance policies in saving camera gear from death. Despite the long drive back, Marks spirits were kept up with me recounting tales of the images we had captured together, the sights and sounds we had enjoyed on this incredible grand adventure in the North East
---
How to get here
Enter your starting location on the box provided under the map to see the route from your starting location to Whitby
Recent Photography Adventures
Why not read about some of my other photography adventures around the UK