Sunrise Photography at Bracelet Bay, Mumbles
Image Title: Bracelet Bay Sunrise

Pentax K-1

Camera used:

Pentax DFA 28-105mm f/3.5-5.6

Lens used:

45mmmm

Focal length:

f/f11

Aperture:

1/60

Exposure time:

100

ISO:
Stormy conditions & poor light faced us as we photographed Beautiful Bracelet Bay at Sunrise
We were met with stormy conditions this weekend at Bracelet Bay Nr. Swansea. Upon our arrival at 5am the rain was lashing the car and the winds were blowing. The darkness of the night was further impacted by there being no moon and thick heavy clouds laden with rain resulted in squally showers peppering our location. Thankfully the car park is nearby and only approx 100m away from the beach, but alas this did little lessen the frustration, each attempt to get out of the car as the rain subdued resulted in rebuttal and another squally blast of Atlantic rain would come in.
Retreating back to the shelter of the car our spirits were feeling pretty low, the drive took 2 and half hours followed by a further 3 hours sat around in the darkness, with the rhythmic sound of pelting rain bouncing off the roof added to the gloom, the radio did little to improve our mood as the shipping forecast foretold of further rain well until the morning, would this be our first non adventure of the year?
Image Title: Tempest Shadow

Pentax K-1

Camera used:

Pentax DFA 28-105mm f/3.5-5.6

Lens used:

58mm

Focal length:

f/8

Aperture:

1/6

Exposure time:

200

ISO:
As dawn approached the conditions changed, the rain and wind eased, a glimpse of light peppered the water for a fleeting moment, but this was enough, the morning glow offering up a seascape of blues in all shades and intensities, it was a remarkable blue hour, truly blue. The inshore waves rolling into the beach and backwashing back to the sea, high tide coinciding with sunrise, it was time to brave the elements and get beach side.
The Sunrise was muted, the cloud obscured the warming light it was a going to be a bust surely? - As we headed back to the car, a glimmer of golden light caught the waves, this built into an intense spotlight illuminating the seascape for a brief few moments, I grabbed the opportunity with both hands!.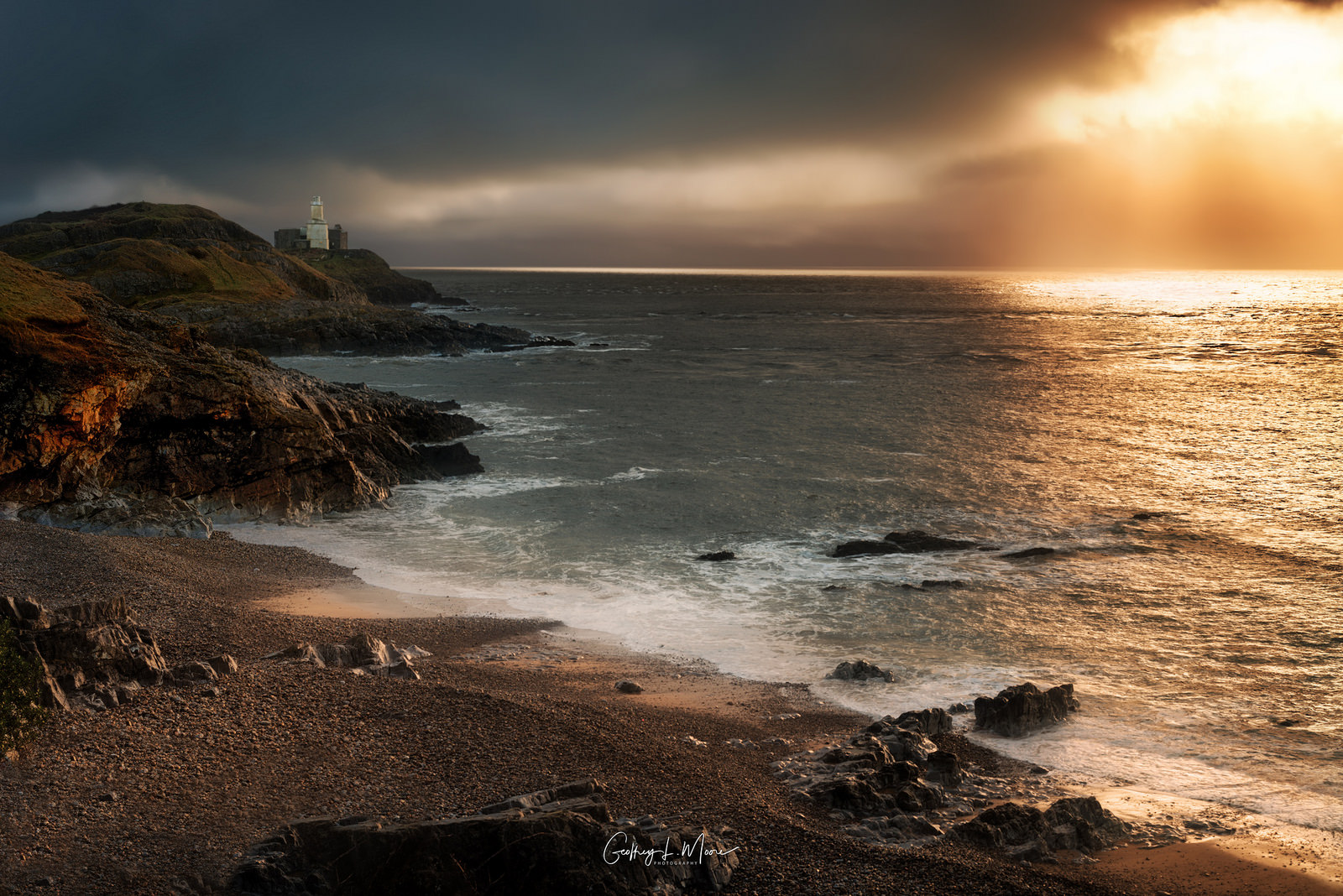 Image Title: Bracelet Bay Glimmer

Pentax K-1

Camera used:

Pentax DFA 28-105mm f/3.5-5.6

Lens used:

70mm

Focal length:

f/11

Aperture:

1/80

Exposure time:

100

ISO:
How to get here
Enter your starting location on the box provided under the map to see the route from your starting location to Baracelet Bay, The Mumbles
Recent Photography Adventures
Why not read about some of my other photography adventures around the UK