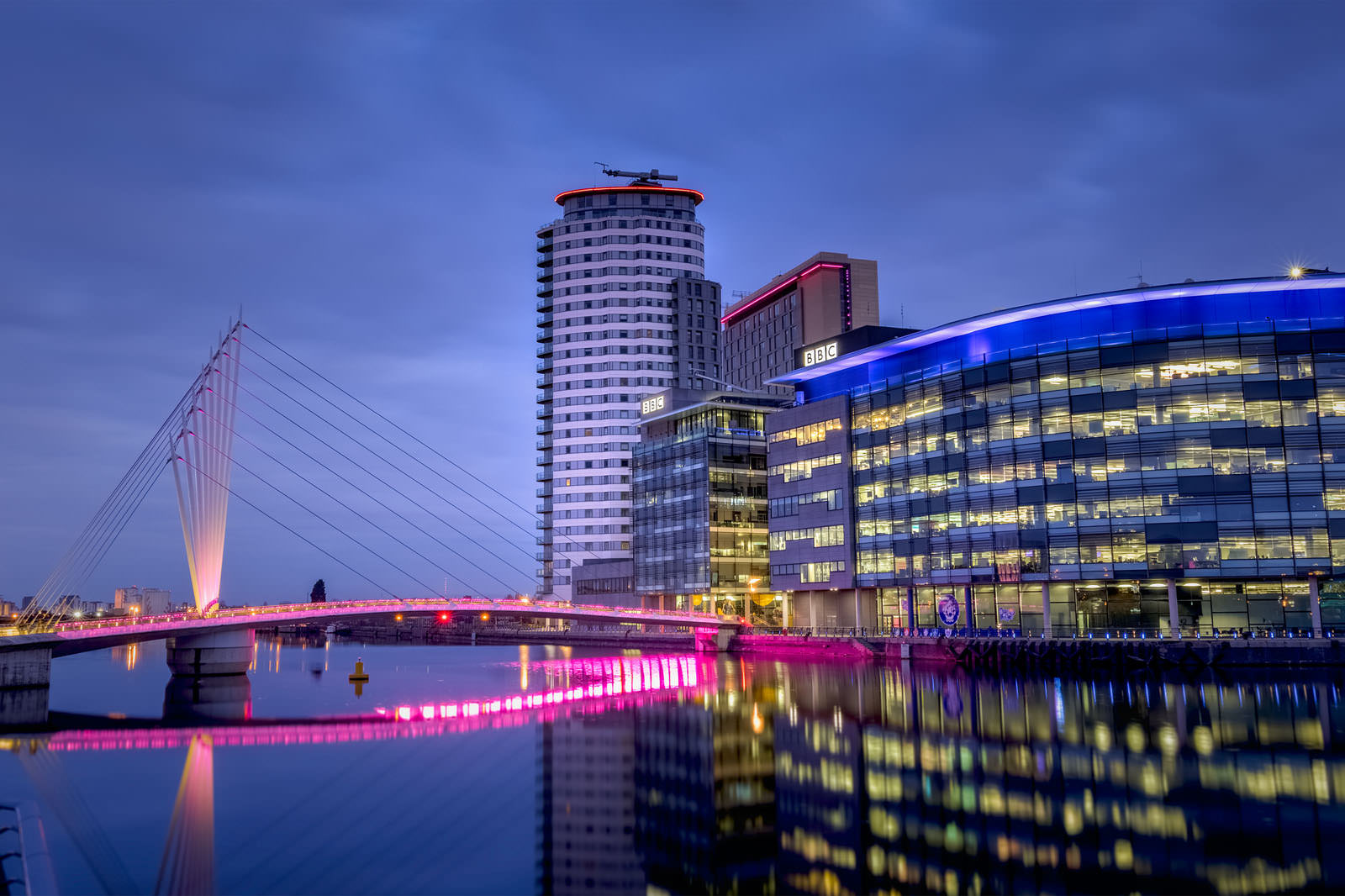 Media City & Salford Quays - Manchester
Image Title: BBC Media City & Salford Quays - Manchester

Canon 7d Mark2

Camera used:

Tokina 11-20mm UWA

Lens used:

20mm

Focal length:

f/11

Aperture:

20"

Exposure time:

100

ISO:
Salford Quays, at the eastern end of the Manchester Ship Canal on the site of the former Manchester Docks, became one of the first and largest urban regeneration projects in the United Kingdom after the closure of the dockyards in 1982.
Salford quays media city regeneration site forms part of an area known as The Quays, a joint tourism initiative between Salford City Council and Trafford Borough Council, which also encompasses Trafford Wharf and Old Trafford, on the Manchester side of the ship canal as well as Salford Quays, The Quays development includes The Lowry Arts Centre and the Imperial War Museum North.

A total of 200 acres (81 ha) of land have been earmarked for the development of MediaCityUK.The first phase of MediaCityUK's development was primarily focused on a 36-acre (15 ha) site at Pier 9 of Salford Quays. In 2010 it was announced that an ITV production centre would be built on Trafford Wharf in the Metropolitan Borough of Trafford Around 2,700 staff work in twenty-six departments including BBC Children's, BBC Learning, BBC Radio 5 live, BBC Sport, BBC Radio Manchester and BBC Breakfast as well as Religion & Ethics, the BBC Philharmonic and parts of Research & Development, Drama and Comedy.
---
Image Title: BBC Bridge North

Canon 7d Mark2

Camera used:

Tokina 11-20mm UWA

Lens used:

14mm

Focal length:

f/11

Aperture:

0.7 Sec

Exposure time:

100

ISO:
City landscape photography group adventure
With our second photographic adventure proving a success, our third adventure this year saw us meeting up with Andy Rouse and Marks photography award wining brother Gary Waidson at Salford Quays, Manchester for a spot of manchester landscape photography. Mark had wanted to meet up with Andy as he is a great admirer of his urban landscape photography and presentation. And It was also my first opportunity to really try architectural photography and it was a challenging but also enjoyable experience, having pulled-up at media city manchester we were immediately approached by the on the onsite security asking what our purpose of our visit was, this was quite understandable as it was 3am in the morning, and we were laden with tripods, cameras bags and speaking in a funny farming country accent!
Having discussed our business for several minutes and offering the chap a look at our recent photographic adventures and photos it transpires that if you are a professional photographer, apparently donated by the use of long lenses, outdoor looking clothes and wet weather gear and funny accent, you need to apply for permission from the site owners for a permit to shoot. We pointed out, the photography we intended to do was for personal enjoyment, and that we had driven 2 hours, and we were meeting friends and that Media City do encourage photography for non commercial use. The security official then settled and was more than happy with our pleading proving in the end to be very helpful on guiding us on the best locations to go to and to take photos from.
Let the photography commence
With the blessings of the onsite security we were free to go an explore and take photos to our hearts content, this ranged from from large plazas, canals, bridges, the Imperial War Museum North, McVities and a host of other brightly lit buildings that dotted the development, really a fantastic location and plenty of interesting photographic opportunities.
---
How to get here
Enter your starting location on the box provided under the map to see the route from your starting location to Media City, Manchester, UK
Recent Photography Adventures
Why not read about some of my other photography adventures around the UK