Storm Chasing at Burnham-on-Sea at the Iconic Low Lighthouse
Image Title: Toto, I've a feeling we're not in Kansas any more.

Pentax K-1

Camera used:

Pentax DFA 28-105mm f/3.5-5.6

Lens used:

28mmmm

Focal length:

f/f11

Aperture:

160

Exposure time:

100

ISO:
Storm chasing on the South West coast of England, Burnham-on-Sea
Its been a little while since I was last adventuring with the camera, the summer months have been busy with family things and chores in the garden and around the house, and for the most part the weather has been quite samey, on top of this my fellow adventurer Mark has also had his time occupied with family and day trips so its with no surprise that the two of us haven't managed to get away in to the wilderness to photograph some iconic landscapes.
However, this particular weekend was fruitful in this regard, typically as you will no doubt know by now from reading about my adventures I'm out and about capturing sunrises, with the very rare sunset shoots too, but this adventure to Burnham-on-Sea in Somerset would see both Mark and I chasing storms on a Saturday afternoon! How avant-garde is that!.
The weather forecast all weekend had been alluding to some large storms forming up from the south coast due to an unusual high pressure and jet-stream coming up from the Azores, apparently bringing with it very turbulent air and squally rain storms that were set to pepper the United kingdom on the 15-18th September, well at least according to the forecast by the BBC, but always, the best measure of the weather is to well, be outside and see for yourself.
Setting off from Worcester mid afternoon we soon hit the M5 south bound traffic, more congested than usual, and within a few miles we found out why, due to an earlier accident the M5 was completely shut at Bristol, and the accident was so bad that the disruption caused, had made the national headlines, thinking quickly we exited the M5 at the next available junction in favour of a more round about way, via the M50/A40/A449 to Newport (Wales) where we would pick up the M4 back to England. As we drove down for once the forecasters predictions were well founded, lightening and torrential rain hindered our progress south. In places the M50 was down to a single carriage way due to flash flooding and the resulting congestion that caused, slowly we made our way and we arrived at Burnham On Sea only a few minutes later than we had originally planned.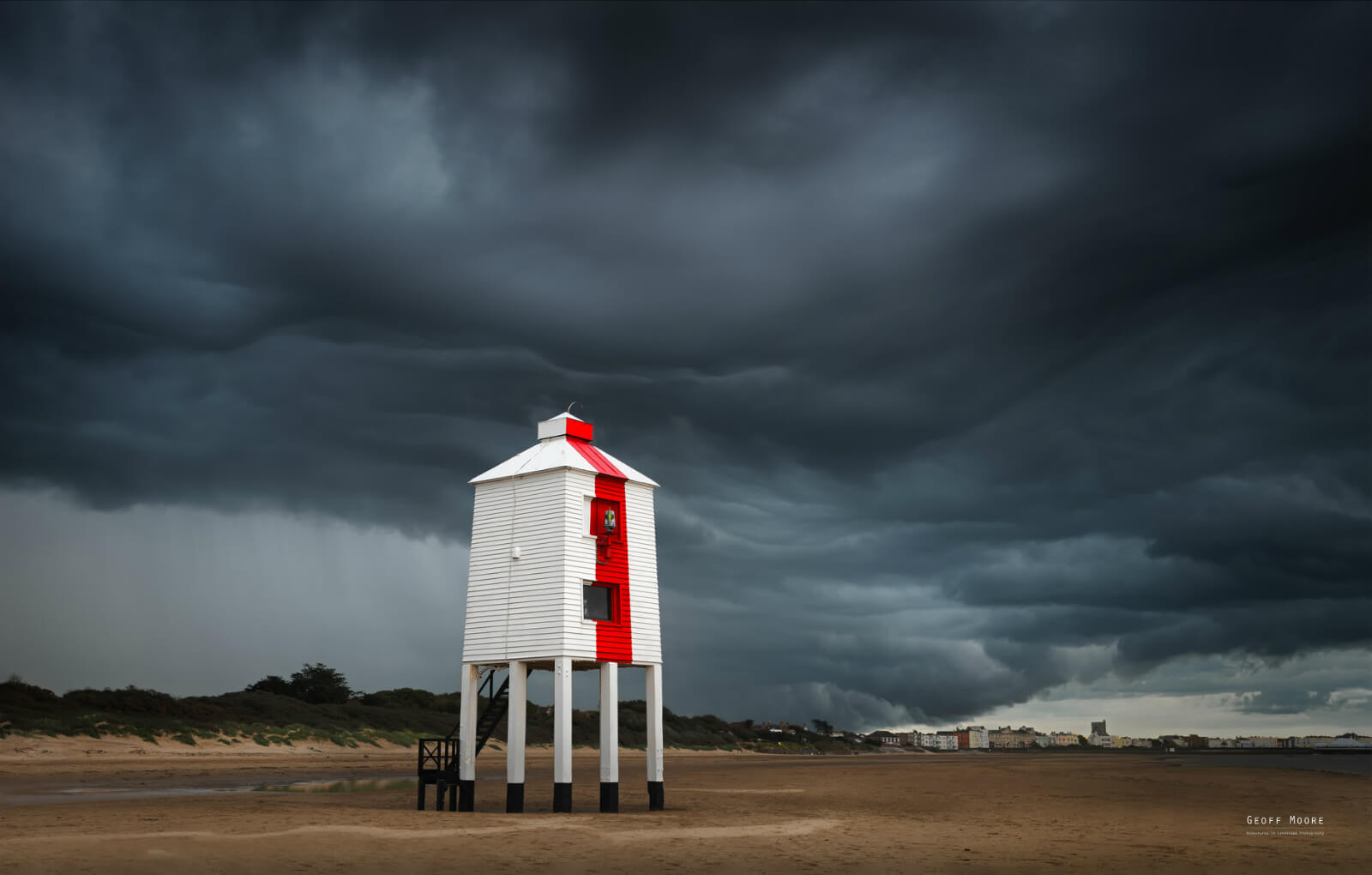 Image Title: Go Faster Little Titan

Pentax K-1

Camera used:

Pentax DFA 28-105mm f/3.5-5.6

Lens used:

28mm

Focal length:

f/11

Aperture:

1/160

Exposure time:

100

ISO:
Low Lighthouse & Beach Access
For those thinking of visiting Burnham-on-Sea there are in fact a three lighthouses in this part of the world, the High one and the Low one, and the Round Tower (one) which is now a private residence. We opted for the Low lighthouse as this is the iconic subject that many photographers who have photographed and for good reason, its position on the sand and its location a short distance away from the main town provides a real sense of isolation and drama in all but the most pleasant of conditions, its backdrop in 3 cardinal points are beaches and dunes stretching into the distance with the 4th looking out towards the Bristol channel with Cardiff, Barry and Penarth (Wales) to the right and Minehead and Lynton to the left (England).
Burnham-on-Sea is notable for its beach and mudflats, which are characteristic of Bridgwater Bay and the rest of the Bristol Channel where the tide can recede for over 1.5 miles (2.4 km). The Bristol Channel, which has the second highest tidal range in the world of 15 metres (49 ft), second only to Bay of Fundy in Eastern Canada. The constantly shifting sands have always been a significant risk to shipping in the area.
Access to the Low lighthouse is possible either via walking up from Burnham itself around 1.5 km or via a small track less than 400 mtrs from the back of the residential estate on Trinity Drive (Google Maps Marker Here) the added benefit of this location is that there is a very small parking area, I suspect used for local residents and dog walkers, so although convenient for access, you might struggle to park the car on busy days. Please note the small track quickly becomes a trail and is up and over some steep sand dunes, so correct footwear is recommended.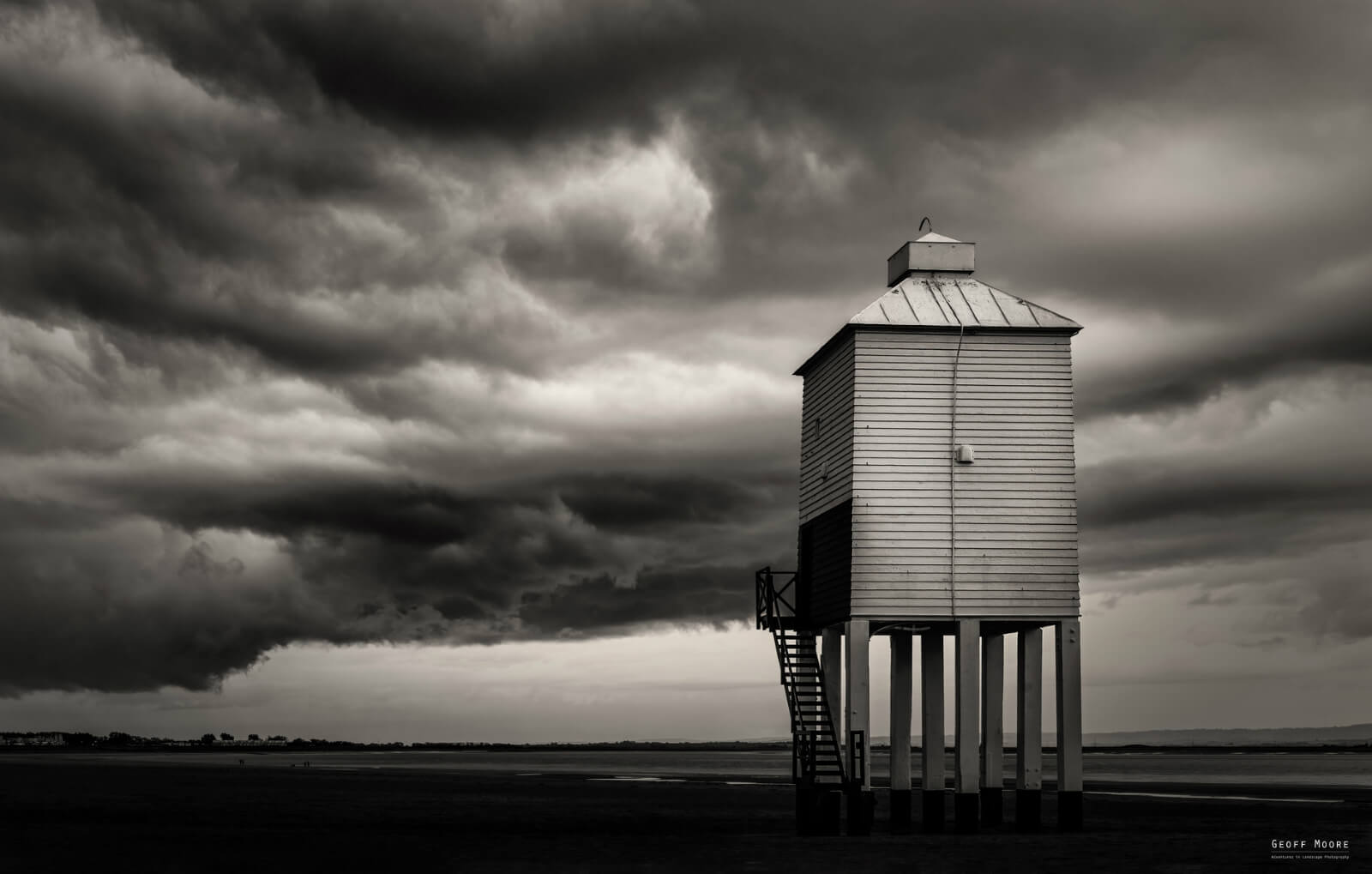 Image Title: Stout Little Titan

Pentax K-1

Camera used:

Pentax DFA 28-105mm f/3.5-5.6

Lens used:

28mm

Focal length:

f/11

Aperture:

1/160

Exposure time:

100

ISO:
Photographing the Lighthouse
Once you have navigated the sand dune trail you are presented with a wild sandy beech, and depending on the time of day this may or may not be underwater, as noted above The Bristol Channel, which has the second highest tidal range in the world, and I would advise you to check the tide times when planning your trip, in stormy weather the sea can get quite rough here and caution should be excised if you are planning on going beach side during a storm and at high tide. On my visit, the tide was receding and was approaching the low tide mark, so there was plenty of opportunity to shoot the light house from all angles with the only concern of getting wet feet! Well that was what I thought until I got caught up in a huge downpour that managed to penetrate my wet weather gear, giving me a good soaking for my troubles...
Burnham-on-Sea is a town in Somerset, England, at the mouth of the River Parrett and Bridgwater Bay. Burnham was a small fishing village until the late 18th century, when it began to grow because of its popularity as a seaside resort.
The Low lighthouse is one of three lighthouses in Burnham-on-Sea, Somerset, England and the only one which is still active. It is a Grade II listed building. Built in 1832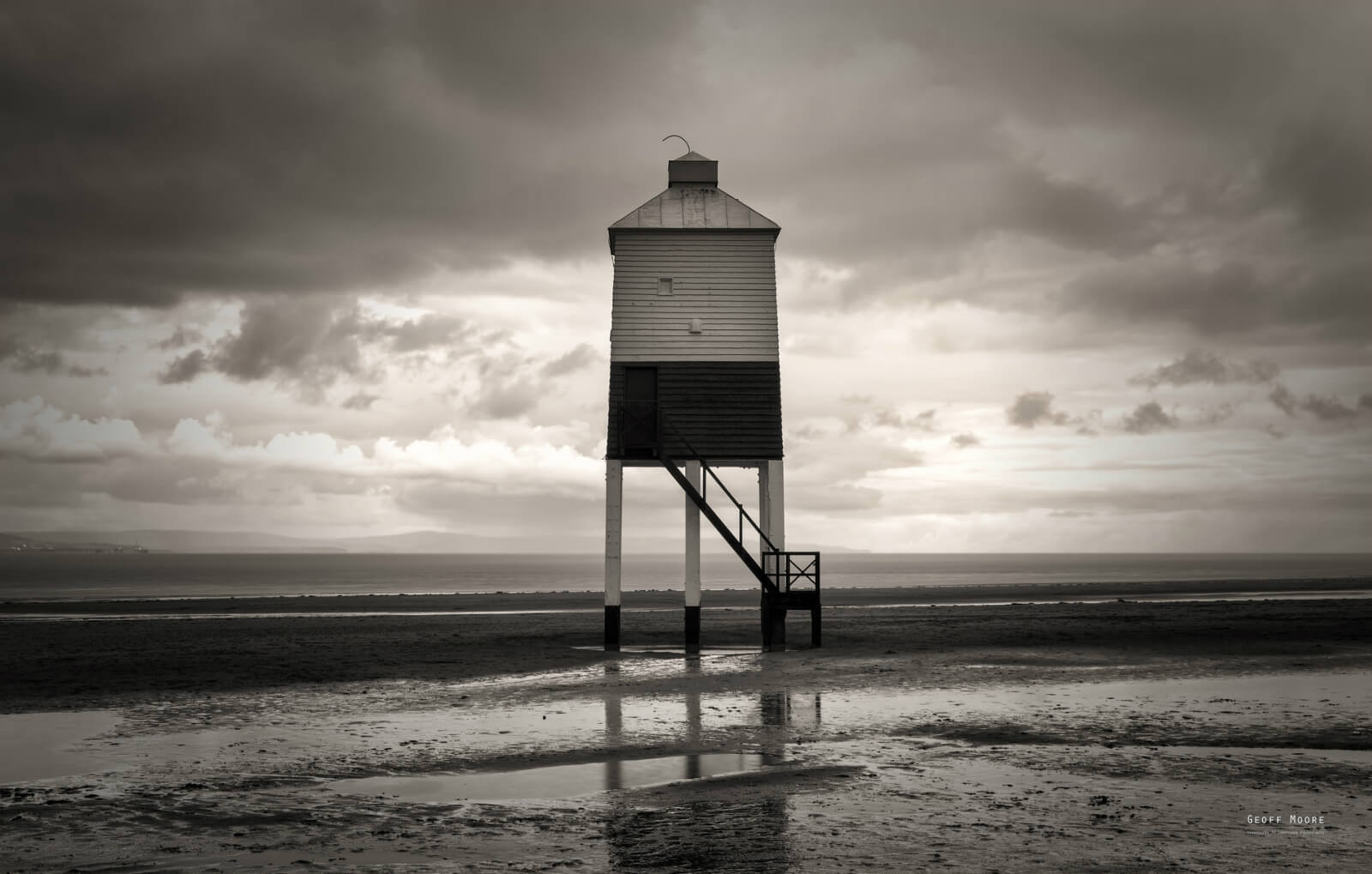 Image Title: Little Titan

Pentax K-1

Camera used:

Pentax DFA 28-105mm f/3.5-5.6

Lens used:

28mm

Focal length:

f/11

Aperture:

1/160

Exposure time:

100

ISO:
How to get here
Enter your starting location on the box provided under the map to see the route from your starting location to Burnham-on-sea, Low Lighthouse, UK
Recent Photography Adventures
Why not read about some of my other photography adventures around the UK