Northumberland - North East
Image Title: Iconic Boat Sheds of Lindisfarne Island

Canon 7d Mark2

Camera used:

Tokina 11-20mm UWA

Lens used:

11mm

Focal length:

f/2.8

Aperture:

30

Exposure time:

1600

ISO:
This whistle stop tour took in the sights and sounds of a Northumberland Island Mini break at Lindisfarne - Holy Island (Stranded) Followed by a sunrise and afternoon photography shoot at Bamburgh Castle with a Sunset at Dunstanburgh Castle. Then back again to Bamburgh Beach for sunrise.
It was Thursday afternoon, I had completed my work chores and had roughly an hour or so to go on my shift at work, all the major issues for the day had been resolved and my team was in command of any outstanding issues pertaining to my not being in the office on a Friday. (You see, a rarity for me to ever take time off work) So, when notification of new Flickr mail flashed up on my mobile. with the following message ... "Geoff, meet at mine for 7 PM tonight, we are going on a road trip" I replied, "Where are we going?", Mark "Holy Island, at Lindisfarne" was the response!
Now I'm not overly hot on my geography, as before my adventures with Mark I'd often develop a nose bleed if I left my home town in worcestershire, not alone my home county, but having been out with Mark several times now to differing locations in the UK, I knew Holy Island and Lindisfarne wasn't in Wales A quick Google search indicated that Holy Island of Lindifarne was in Northumberland! that's 5 h 10 min (301.8 mi) away! Fast forward to 7 pm
The nightmare of rush hour traffic.
What started off as simple drive up north soon transpired in to a race against time, you see the Holy Island of Lindisfarne is a tidal island off the northeast coast of England. It is separated from the mainland by a causeway that gets completely submerged twice a day, and if you know anything about such events they happen whether or not your stuck in traffic! Traffic was bad on the way, closed motorways, rush hour, lorries broken down, newly installed average speed cameras and roadworks all added to challenge of getting to our destination before high tide!
By Marks estimations we should get to the course-way by 00:00 with the last possible crossing at 00:30 and on to Holy Island with plenty of time to spare, at which point we would then be stranded on the island till after sunrise, at least until 07:30 when we could safely cross once more, this time back on to the mainland. However tide times are funny things, not exactly a precise science you see, the tide times should be treated with caution, as local weather conditions (such as high wind) can change them. As a rule of thumb, you should always always allow 30 minutes extra time to compensate for these variables and without question a sanity check come judgement call should always be made before committing to crossing.
A race against time.
At 00:20 we reached the course-way from the mainland to Holy Island, a quick check of the Tide times suggested that we had a window of around 10 minutes at a push, to cross before the entire causeway would be under several feet of seawater, that's 10mins to do a 1 mile, No problem we thought, driving in to into the darkness, the road surface was rough and eroded and slowed our progress considerably, we slalomed pools of deepening water, slippery patches of seaweed, thick mud and sand slicks, there was no turning back now, we had to press on and hope we could beat the rising tide. What felt like and age we finally we made it to the other side and once again on dry land much to the relief of Mark and myself, finding a suitable parking space, we got out of the car and took a deep breath and whilst calming our excitement of the drive in, we gathered our bearings, donned our cold weather clothes and set off on foot into the darkness to explore our new home for the next 8 hours!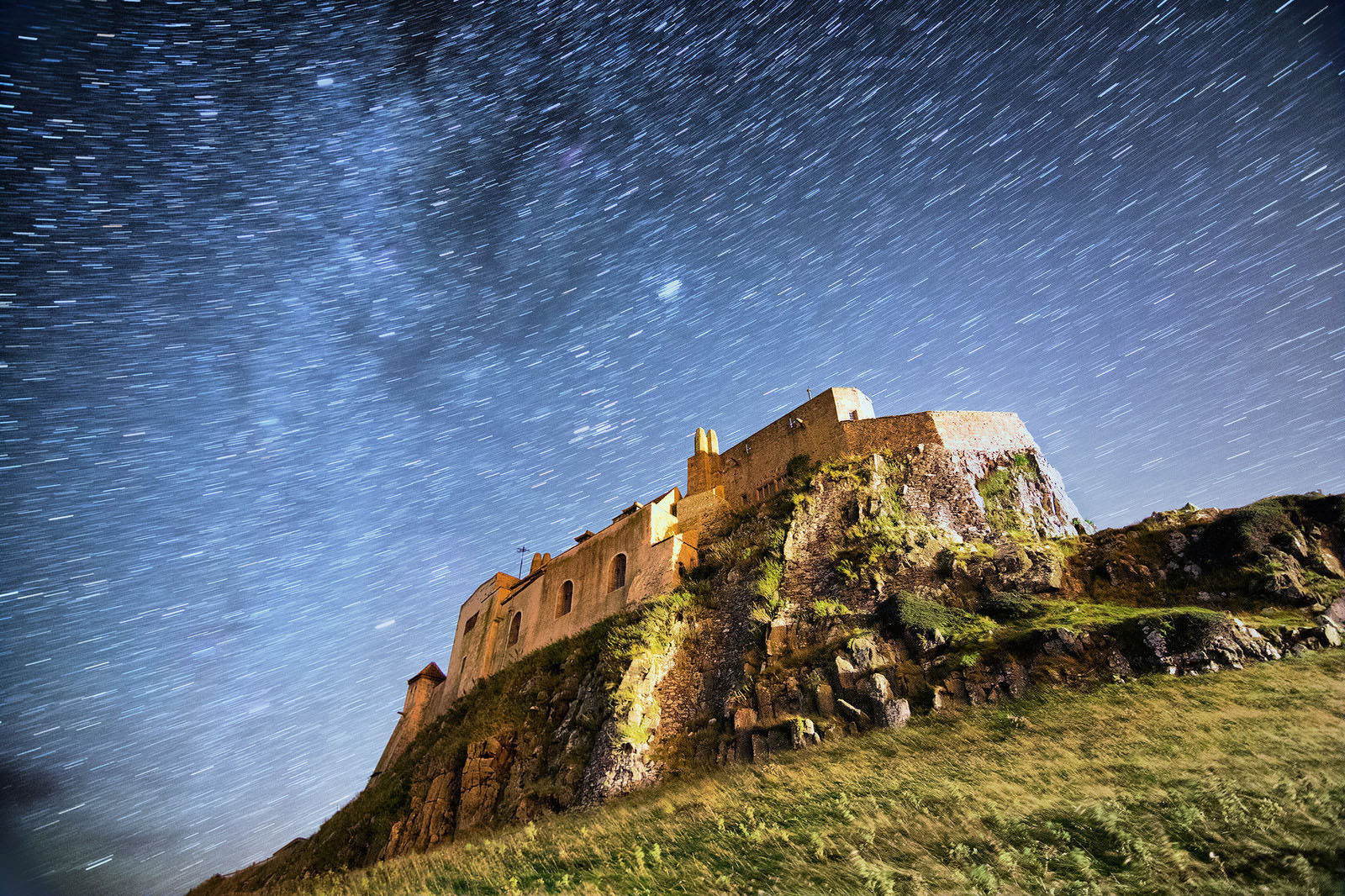 Image Title: Lindisfarne Castle Star Trails

Canon 7d Mark2

Camera used:

Tokina 11-20mm UWA

Lens used:

11mm

Focal length:

f/2.8

Aperture:

300 Sec

Exposure time:

3200

ISO:
Lindisfarne Castle is a 16th-century castle located on Holy Island, near Berwick-upon-Tweed, Northumberland, England, much altered by Sir Edwin Lutyens in 1901. The island is accessible from the mainland at low tide by means of a causeway. The castle is really two buildings; the comfortable Edwardian holiday home with the Lutyens features and an old fort, dating from Tudor times and taking up three quarters of the Castle's history.
Lindisfarne Castle as we know it first appears in about 1550, but wasn't in any completed state until 1570. For the next three hundred years, the fort (as it was known then) was home to temporary garrisons of soldiers on detachment from the larger force based at nearby Berwick. Their main job was to man the guns, watch the horizon for trouble, and try and stave of boredom with gunnery practice. Aside from a couple of incidents, the Castle could be said to have had a quiet military history through this period. The fact it was still standing when Edward Hudson discovered it in 1901 is testement to that. His friend the architect Edwin Lutyens was soon to dramatically change the building over the next few years, from a fort to a holiday home.
Many of the features of the old fort were lost during the Lutyens renovation of 1903-1906 but if you delve a little deeper and don't accept what you see in front of you, parts of the old building reappear before you.
Further reading: National Trust - Lindisfarne Castle
Early morning sunrise photography
Two photographers roaming the beach at Bamburgh Castle at sunrise looking for the illusive composition and light to capture this iconic location in all its resplendence.
Image Title: From Bamburgh With Love

Canon 7d Mark2

Camera used:

Tokina 11-20mm UWA

Lens used:

11mm

Focal length:

f/6.7

Aperture:

15 Sec

Exposure time:

100

ISO:
Morning at Bamburgh
Bamburgh Castle - The castle sits on a basalt outcrop overlooking the Farne Islands and Lindisfarne. It is home of the Bamburgh Castle Aviation Artefacts Museum.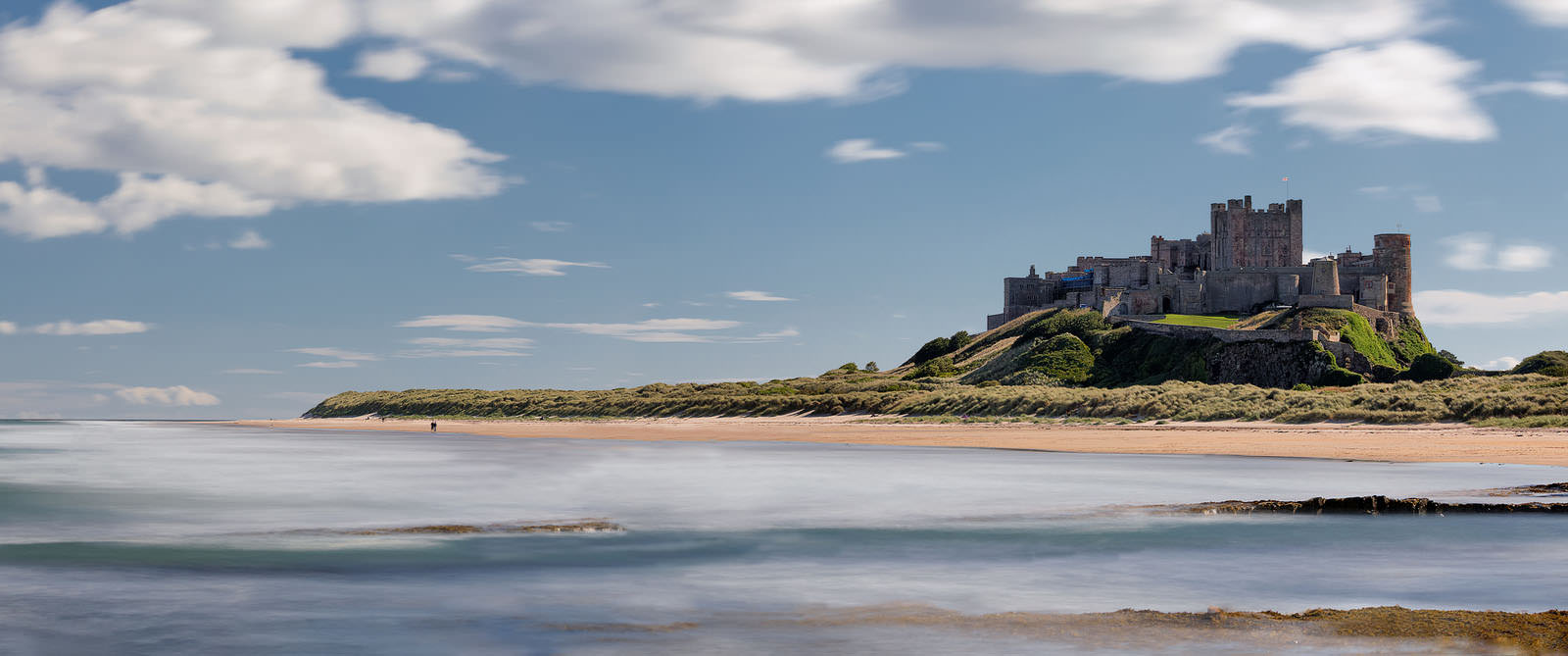 Image Title: Bamburgh Castle

Canon 7d Mark2

Camera used:

Tokina 11-20mm UWA

Lens used:

11mm

Focal length:

f/7.0

Aperture:

100

Exposure time:

100

ISO:
How to get here
Enter your starting location on the box provided under the map to see the route from your starting location to Lindisfarne Castle, UK
Recent Photography Adventures
Why not read about some of my other photography adventures around the UK