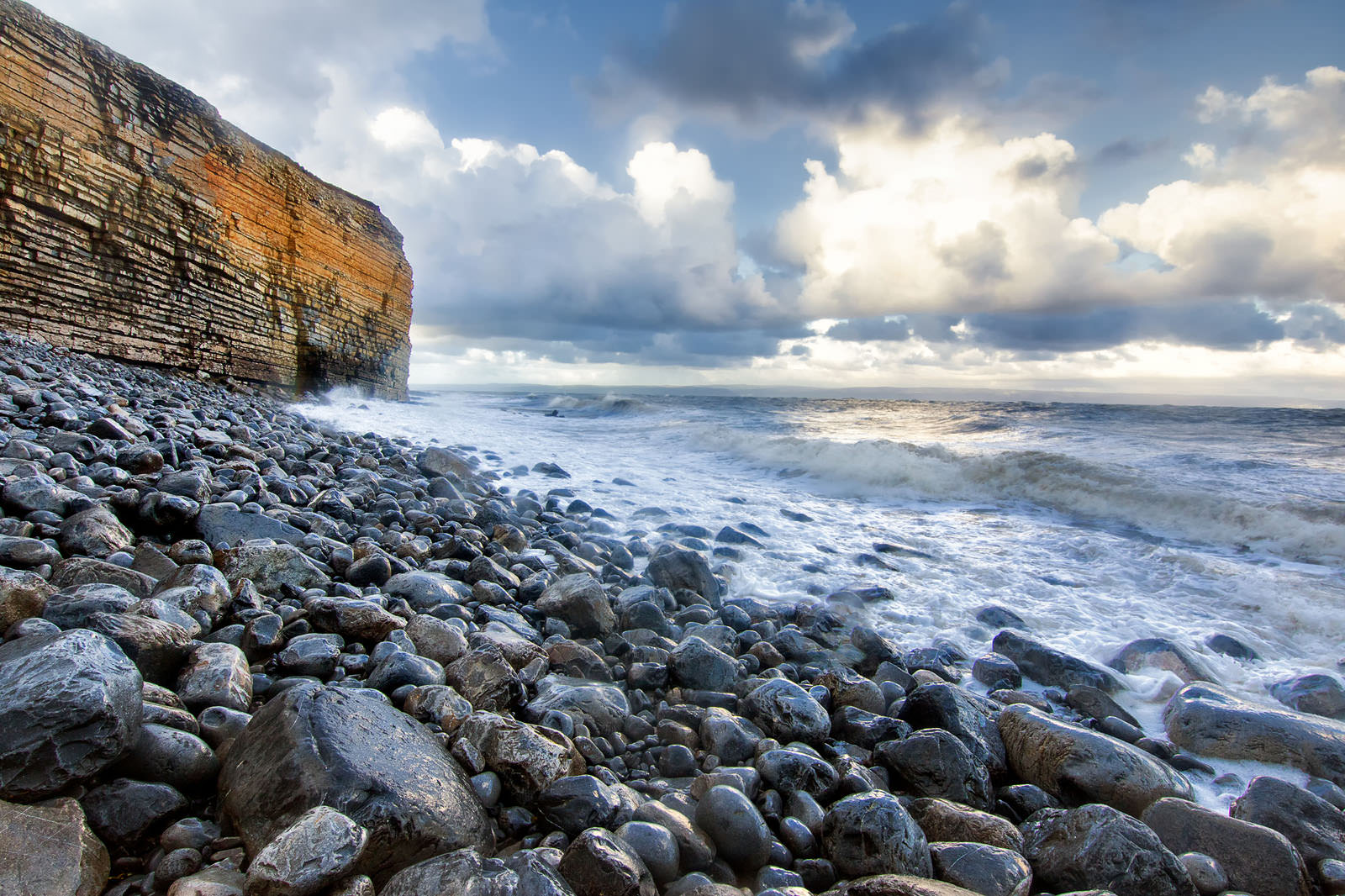 Nash Point - Wales
Image Title: Sea breaking on to Nash Point in Wales.

Canon 7d Mark2

Camera used:

Tokina 11-20mm UWA

Lens used:

11mm

Focal length:

f/11

Aperture:

1/20

Exposure time:

100

ISO:
Nash Point is a headland and beach in the Monknash Coast of the Vale of Glamorgan in South Wales.
Wellies and decent wet weather gear where in high demand on this adventure, we arrived shortly before sunrise and the moment the car came to halt it was obvious we were parked directly in an approaching storm front, the wind was gusting and the car was being rocked from side to side, Mark and I shared a glance with the expression that read like a novel, had we bitten off more than we could chew on this occasion. We readied ourselves for a short walk up to the headland and Nash Point Light House..
Costal photography in very wet weather
We started our walk, perhaps no more than a few hundred metres from the carpark, and just as dawn broke the heavens opened! The rain, if you can call it that, more like flying needles was hitting hard and was coming in at 90 degrees in all directions, the wind pushed and pulled at my body as I tried to brace against it, visibility had worsened we knew we needed to make a dash for the nearest shelter. By this point it was obvious, this wasn't a teaser to the approaching storm this was the main event, we had no option, we were to far away from the car to beat a retreat and only halfway to the Lighthouse, a decision had to be made, we had to find shelter and fast, thankfully ahead of us we found one of the outlying buildings, crouching down behind it, using it as break against the raging storm we waited it out, a precious few moments shielded from the storm kept our equipment largely dry and only damp to the touch, thankfully my gear is weather sealed, I did worry about Mark's though.
As anyone who does this type of activity, in this sort of weather will attest too, its very difficult to keep a tripod with camera attached steady, not alone keeping oneself upright, at points, I was even cowering down nearly on all fours to avoid taking off! thankfully the storm was short lived and quickly passed us, even the seagulls looked relieved.
Image Title: Nash Point Lighthouse

Canon 7d Mark2

Camera used:

Tokina 11-20mm UWA

Lens used:

15mm

Focal length:

f/11

Aperture:

1/8

Exposure time:

100

ISO:
The passing storm
With the storm finally passing the air was turbulent, the skies had cleared to a point leaving broken cloud that caught the morning sunrise perfectly. Red, Oranges and yellows lit all sides of the passing clouds, which reflected this beautiful warming light down on to the landscape below.
Nash Point is a headland and beach in the Monknash Coast of the Vale of Glamorgan in south Wales, about a mile from Marcross. It is a popular location for ramblers and hiking along the cliffs to Llantwit Major beach. The lighthouse meadow is a Site of Special Scientific Interest, containing rare plants such as the tuberous thistle, and other wildlife such as choughs can be seen.
Parts of the section of the Glamorgan Heritage Coast where the lighthouse stands consists of "cliffs of Lias limestone interbedded with softer erodible material" and has been identified as potentially at risk from erosion and flooding. Many fossils, including ammonites and gryphaea are to be found there. Marcross Brook passes through the cliffs and an Iron Age hillfort, usually called Nash Point Camp, stands on the north side of the brook, although its remains have been largely eroded by the sea. Round barrows are also to be found nearby.
A study of the rocks shows that they exemplify "a 12,000 year old sequence of tufa, scree and slope deposits containing abundant fossil snails", while the Nash Bank offshore is formed by "Jurassic mudstones overlain by bands of sand and gravel". In 1962, the empty tanker BP Driver (formerly the BP Explorer, which had been rebuilt following a disaster in the River Severn) was pushed on the rocks and was abandoned by its crew of five, all of whom survived. Despite the assistance given by the lighthouse, the ship's captain was unable to bring her in safely to land. At low tide, remains of the wreck can be found about 200m north of the beach access by the light house.
Further Reading: Nash Point Lighthouse website
How to get here
Enter your starting location on the box provided under the map to see the route from your starting location to Nash Point Lighthouse, Wales
Recent Photography Adventures
Why not read about some of my other photography adventures around the UK