Revisiting Llyn Idwal, Winter in the Welsh mountains.
Image Title: Winter In The Mountains

Canon 7d Mark2

Camera used:

Tokina 11-20mm UWA

Lens used:

11mm

Focal length:

f/11

Aperture:

60 Sec

Exposure time:

100

ISO:
First adventure of 2017, sunrise hunting at Cwm Idwal. Involving a cold, hard hike in the pitch black on a winters night, traversing snow and ice and gusty snow storms! Epic.
So Christmas has come and gone, and not surprisingly the past couple of weeks have been a little busy for myself and Mark preparing and enjoying the festivities with our respective families. As always the case with Christmas the chances and likelihood of eating to much food presented itself and I now feel considerably heavier and sluggish then I did in November, so when Mark suggested kicking 2017 off with a re-visit to the stunning Llyn Idwal, I thought, what a better way to help burn of some of Christmas calories than a hike up into the mountains.
We pulled up at the lay-by just down the road from Ogwan Cottage, Snowdonia (Sat Nav Nant Ffrancon, Bethesda LL57 3LZ) It was dark, cold and windy, and we hadn't seen any passing traffic on our inbound journey, not surprising really as it was also 05:00 in the middle of winter, however these few points didn't perturb us from our adventure up and into Lake Idwal.
Armed with head-torches, hats, gloves and several thermal layers, with our backpacks packed with supplies and cameras we started our accent from Ogwan Cottage following the outline of the stone lined path up and into the upland environment, the going was particularly tough with razor sharp sleet and rain punishing any exposed skin, the gusting winds were hampering every footstep as we ascended onward and upward into the impenetrable darkness.
On a normal days hike, not at silly o'clock in the middle of British winter the route to an around Llyn Idwal taken offers some of the most dramatic mountainous scenery in the UK, allowing you to adventure into a normally inaccessible upland environment, and through beautiful ice-sculpted Cwm Idwal – a bowl-shaped hollow filled with the crystal clear waters of Llyn Idwal. Unlike most corrie lakes which are circular, Llyn Idwal has a linear shape. In places the lake is also disrupted by rock obstructions and by hummocky moraines. Unusually for a corrie lake, it is surprisingly shallow with 10 metres at its maximum but with an average depth of 3 metres.

Hiking The Trail
The well defined path was soon reduced to an outline of as thick layers of snow and ice had removed all but the most obvious of details. The pitch blackness of night was twined with ambient light being obscured by thick wintry clouds that hung low and moved in a chaotic fashion in our environment, disorientation was a serious concern as well as loosing your footing on the wet and icy stone slabs, with these challenges facing us my thoughts turned to the adventurers of a by gone era, the likes of Roald Amundsen, Robert Falcon Scott and Ernest Shackleton, how these individuals and support team coped with the physical and mental challenges a cold, harsh, environment presents is truly awe inspiring, however here was I, even to daring compare my situation to those great men, when the shelter of a warm car was only a couple of miles away!
Still with the thoughts of these intrepid explorers in my mind we pushed on, on ward and upward on following the now barely visible outline of a trail borne out of the previous summers walkers. Finally we reached a plateau above the lake in which we could take a little shelter and take stock of the conditions including the time and the focus of our hike, an iconic tree that grows from an outcrop high above the lake. Considering the situation and the worsening conditions we decided to wait out and hold our position until daylight had broken, my bottled water had frozen in my outer pocket and although knowing we wouldn't have much of a sunrise to speak of, the additional light and warmth from the rising sun would be most appreciated.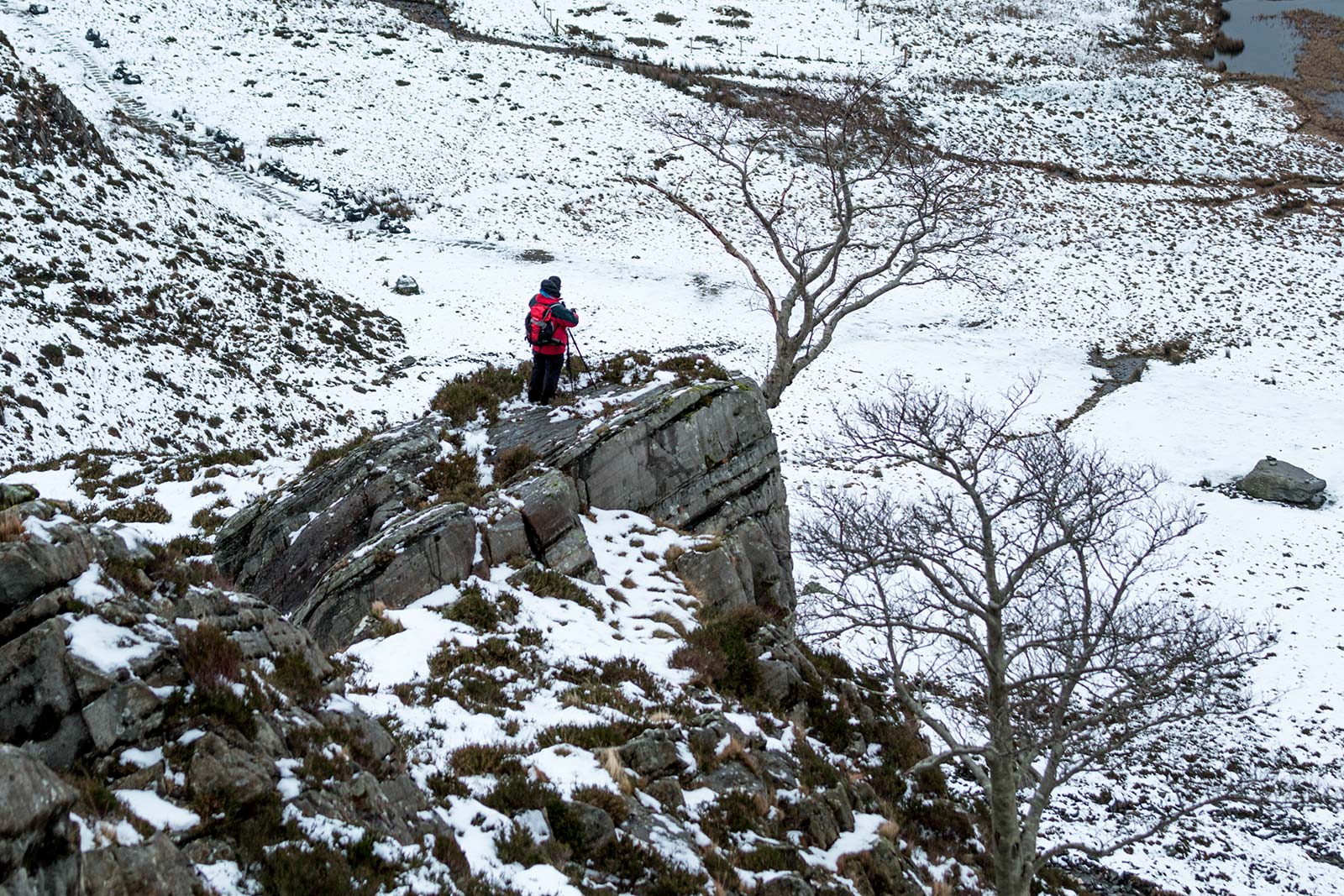 Image Title: Man vs Tree - A fight for composition

Canon 7d Mark2

Camera used:

Canon 70-200mm F4 IS

Lens used:

70mm

Focal length:

f/4.0

Aperture:

1 Sec

Exposure time:

100

ISO:
Waiting out the storm, fixing the camera
As daylight broke we found ourselves only a 20-30 feet or so higher than our target, which is pretty good going! considering we hiked by the light of 2 head torches alone. Needing to relocate, we moved down a little and re positioned ourselves so we could get the composition and images we had set out for, by this point with improving light, and a turn in conditions, Mark had broken rank and was scrambling out to the tree to get the composition he was looking for, I was facing my own challenges, for one reason or another my camera refused to adjust for the ISO values I was entering, a change of battery and a lens still made no difference, in essence, I couldn't expose for the scene, the only option was to reset the camera to defaults. Thankfully this banished the gremlin and I could at least get to work taking some photos.
This was a major frustration, all of my settings and comfort in using my camera had been removed from me, configuring the various menus and settings from memory was hard enough, but to do so with no feeling in your hands or fingers proved even more fun. Eventually, I had manage to re-apply my settings and customisation back on to my camera and I was able to start photographing this stunning location. What an Adventure!
If you are visiting Llyn Idwal and Lyn Ogwen form further afield, Ogwan Cottage provide accommodation for 36 young people and 4 members of staff in rooms of 1-8 and also provide Toilet and shower facilities, recommended if your looking to turn your adventure from an overnight to a few days worth of hiking.

Image Title: The Decent

Canon 7d Mark2

Camera used:

Tokina 11-20mm UWA

Lens used:

13mm

Focal length:

f/8

Aperture:

1/45

Exposure time:

100

ISO:
For those of whom follow me on my adventures you will know this isn't my first visit to Llyn Idwal, and in fact this location, was my first foray into mountain hiking with Mark, however, on my first visit I really didn't get the best out of this stunning location, the light was difficult and a low handing murk obscured detail in the environment as the sun rose. So having the chance to visit again, in a completely different season and conditions was a must. Overhaul I was pleased with the adventure and outcome, I had managed to brave some rather unpleasant conditions and handle technical difficulties with my camera, a worthwhile learning experience. That being said, I'm looking forward to warmer weather!
For those driving from the North
Take the M6 south and exit at junction 20a to join the M56, following signs for North Wales. Follow the M56 onto the A494, and then join the A55 along the North Wales coast, following signs for Bangor. Follow the A55 to Junction 11, turning onto the A5 and then following signs for Bethesda.
Drive through Bethesda and continue along the A5, now following signs to Betws y Coed. The Ogwen Cottage Centre is around 5 miles beyond Bethesda, and is clearly sign-posted on the right hand side of the A5.
From the South
Take the M6 north and exit at junction 10a to join the M54. Follow the M54 to its end and then join the A5, following signs for North Wales and then Bangor. Follow the A5 through Betws y Coed and then Capel Curig, and the Ogwen Cottage Centre will then be found on the left hand side of the A5 at the end of Llyn Ogwen.
By rail
Bangor station is 10 miles away.
Further Reading: National Trust - Llyn Idwal

How to get here
Enter your starting location on the box provided under the map to see the route from your starting location to Ogwen Cottage, Wales
Recent Photography Adventures
Why not read about some of my other photography adventures around the UK